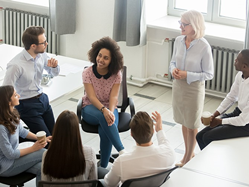 All too often, employees at all levels fail to realize how their own behavior opens the door to attack.
HOBOKEN, N.J. (PRWEB) October 15, 2020
A NYC area IT security consultant discusses how to increase the effectiveness of company-wide security awareness training in a new article on the eMazzanti Technologies website. The informative article first reviews the prevalence of business cyber security incidents for the previous year.
The author then encourages readers to make training relevant and engaging and provide focused chunks of instruction. He then discusses how training should be targeted to the learner's role and access. He concludes by emphasizing the importance of timing and security awareness training as part of a broader strategy.
"All too often, employees at all levels fail to realize how their own behavior opens the door to attack," stated Almi Dumi, CISO, eMazzanti Technologies. "Likewise, they may not understand and follow best practices to protect both the organization and customer data."
Below are a few excerpts from the article, "How to Succeed at Company-Wide Security Awareness Training."
Make Training Relevant and Engaging
"Too many security awareness training programs fail. Employees attend by requirement, but often they find the information dry and uninteresting or filled with scare tactics. Consequently, they pay little attention and fail to apply the training when presented with real-life cyber security situations."
Target Training to Learner's Role and Access
"A sales executive faces different security threats than a technician on the assembly line. For instance, the accounting executive may well become the target of a spear-phishing campaign. Factory technicians, on the other hand, need to understand how to recognize cyber security threats to the internet-connected machinery they operate."
Cyber Security Strategy
"Security awareness training plays a key role as part of an overall cyber security plan. When focused, timely training engages learners, it helps to strengthen the human defenses against cyber-attack. Back up that training with effective policies, automated where possible. This will add an important layer of protection on top of security technology."
Help from Cyber Security Experts
The cyber security specialists at eMazzanti Technologies help business leaders build the right security strategy for their organization. They clarify the myriad options available, helping them decide the most effective combination of tools to keep employees and executives aware, information safe, and company reputation secure.
Have you Read?
MSPs Empower Remote Work with Flexible Solutions
4 Ways Managed Services Improve Cyber Security
About eMazzanti Technologies
eMazzanti's team of trained, certified IT experts rapidly deliver increased revenue growth, data security and productivity for clients ranging from law firms to high-end global retailers, providing advanced retail and payment technology, cloud and mobile solutions, multi-site implementations, 24×7 outsourced network management, remote monitoring and support.
eMazzanti has made the Inc. 5000 list 9X, including eight consecutive years, is a 4X Microsoft Partner of the Year, the #1 ranked NYC area MSP and NJ Business of the Year! Contact: 1-866-362-9926, info@emazzanti.net or http://www.emazzanti.net Twitter: @emazzanti Facebook: Facebook.com/emazzantitechnologies.