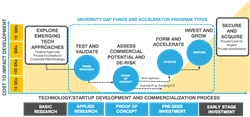 Over the past 20 years, research institutions have evolved gap funding programs as a capital and innovation support mechanism to address the critical elements of tech and spinout development, while also attracting additional capital and participation from corporations, venture capital, and others
MINNEAPOLIS (PRWEB) August 10, 2020
University gap fund and accelerator program leaders know that the tech startup "Valley of Death" is real. Now, they can find out how their counterparts at other universities are successfully managing this difficult terrain with the Mind the Gap 2020 Report.
The Mind the Gap 2020 Report is based on 15 Years of experience and data. The report, a first-of-its-kind publication now in its fifth iteration, includes 141 different gap funds affiliated with 84 research institutions and details their source of funding and sustainability plans, processes and management, and ultimately their impact on commercialization capabilities and the broader innovation ecosystem. The gap funds detailed in the report have collectively been the catalyst for:

$557M invested into 6,193 university tech and startups
$6B in follow-on capital attracted from venture firms and corporations
1,262 startups created and 739 technologies licensed to high-tech companies
"The Mind the Gap Report is fundamental to innovosource's effort to assist gap funding and accelerator support programs," said Jacob Johnson, founder of innovosource and author of the report. "The report tracks the evolution of translational research, proof of concept, startup and venture gap fund programs.
"We have seen that despite a somewhat volatile global financial, economic, political, and social environment, and now a global pandemic, research institutions continue to make commercialization of their technologies a priority and demonstrate their importance to innovation and society," added Johnson.
The report provides pertinent information for research universities and labs; tech-based economic development initiatives; incubators, accelerators, and research parks that manage these programs; smart corporate innovation and venture groups; angel and venture investors that integrate these programs into their innovation and investment strategies; and policy-makers and international governments that seek to enable and support innovation, business development, and job creation. Information in the report includes:
A detailed assessment of traditional and emerging forms of early-stage capital,
Actionable strategies for raising and initiating funds and plans for sustainability based on a full review of current funding sources,
Illustrations of specific impact and results of gap funding, including financial returns, process indicators, economic development measures, and community engagement metrics,
A design framework for a full four-step gap funding process from promotion to funding selection and evaluation to management and oversight,
Highlights of innovative support programs that are associated with gap funds that build an innovative community of students, faculty, and mentors, and
Interviews with gap fund program leaders who provide insights into operations and lessons.
Both a summary report and full report are available at https://www.innovosource.com/mindthegap2020. The summary report is available free of charge.
About innovosource
Over the past 15 years, innovosource (https://www.innovosource.com/) has worked with and supported hundreds of gap funding programs around the world. By partnering with research institutions and affiliates, innovosource informs, connects, and advocates for technology and startup gap funding and accelerator support programs.