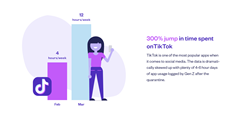 If you feel like you're sitting still, you're right
SAINT PAUL, Minn. (PRWEB) April 13, 2020
If you find yourself missing work, school, or just getting out more, you're not alone. Over the past 3 weeks we've observed some of the steepest shifts in how people use their time. If a person is only as good as the decisions they make, what does our reaction to this newfound time say about us?
To answer this question BetterYou looked at a population of college students (we work with 27 colleges and Universities) and measured change in how they spend their time. The results weren't exactly what you'd expect.
If you feel like you're sitting still, you're right
The average American gets about 5000 steps per day. We observed that prior to the move to a virtual campus, college students were right in line there at 5786 steps average per day. Then March happened. During the last week of March student steps were 2835 per day. This 51% drop shows the impact staying inside more has on our overall movement.
It's worth noting however that the news isn't all bad. While the number of days with under 1,000 steps has never been higher for this group, there also are several people walking more as a result of being cooped up inside. The distribution is bi-modal. However if you were to pick a college student at random, our data says they likely are moving substantially less than they were in Feb.
What it means: Without the ability to visit places or walk to lunch it's easy to end up getting just 800 steps in your day.
300% jump in TikTok time
TikTok is one of the most popular apps when it comes to social media. Due to the quarantine it's popularity has only gone up. The amount of time an average college student spent on TikTok in the last week of March was 2.95 times greater than those same students a month earlier. This sample includes students that don't even have the app, when looking purely at days with TikTok usage before quarantine we saw just under 1hr/day average and now that number has jumped to 1.75 hours/day. This means that not only is session time increasing, but also the number of days students are using TikTok has jumped (our records show a 40%.increase in the number of days students are using the app in a given week).
The data is dramatically skewed up with plenty of 4-6 hour days of app usage logged by students after the quarantine.
Not to be outdone, Instagram jumps 40%
Instagram usage is also seeing a surge. With more people going live for AMAs or workouts It's unclear if that is the driver of the jump or if people are just looking for something to do with their newfound time. We looked at average daily usage and 25% of the time students in our population didn't use instagram in a given day. Even including these zero usage days the average student still saw a 40% increase. It's worth noting that even despite this jump weekly Instagram time is only 3.6 hours per week among college students logging sessions every day.
What it means: With a jump in discretionary time (no commute, much less getting out of the house) digital mediums are growing with weekly TikTok time eclipsing 12 hours for students using the app regularly.
But our students are talking to people more too right?
Yes, mobile social time is up for our student population about 9 minutes per day per student. This measures video calls, Whatsapp, Houseparty etc. This brings the average weekly talk time to just about 2 hours per student, a significant jump, but not quite the surge we were expecting given that physical isolation makes it hard to see your friends in person.
What it means: With a jump in mobile talk time far less than what we had hoped, we think students are shifting most of their social time to laptops, consoles and other means not fully captured in the data.
Whether it's looking at our college students or ourselves, behaviors are changing in response to the isolation. Let's do our part to help them change for the better.
Stay moving, stay social, stay healthy.
--Your Friends at BetterYou
BetterYou is a digital coaching app that measures how people use their time and links it back to their goals. Ultimately it's our job to help you make the most of your day.