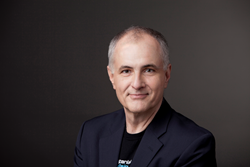 Webinar participants will not only gain valuable insight into the design industry but can also take advantage of free trial access to the same Autodesk software used by over 12 million professionals worldwide.
New York, NY (PRWEB) January 08, 2015
3D Training Institute is proud to announce that Stan Szymanski, a senior VFX, animation and digital media executive with over 30 years of experience in talent acquisition, artist management, and production and studio operations management will be featured as the inaugural speaker in the webinar series, How To Land Your Dream Job in 3D. Stan will share his wealth of knowledge about the inside workings of the industry, how to get hired, what recruiters are looking for, and tips for creating and building a successful career in the 3D world.
Stan was the Senior VP of Creative Resources and Digital Production for Sony Imageworks for 14 years where he headed up artist management, talent development, resource allocation and recruiting for the studio. He founded StanleyVision in 2009 after leaving Imageworks and works as an organizational consultant, educator, resource strategist, headhunter and recruiter for today's global VFX, animation and digital media production industries.
Stan works with the world's top studios to develop winning organizational strategies and recruits the best of the best, creative, technical, production and facility management personnel. A partial client list includes Technicolor, MPC, Digital Domain, Framestore, Method Studios, Reel FX, Universal Creative and The Mill.
Stan has made significant contributions to decades of award winning VFX films and commercials. The Imageworks artist team recruited and managed by Stan were recognized by the Academy of Motion Picture Arts and Sciences with Oscars® for their work on "Spider-Man 2" and the animated short film "The Chubb Chubbs!" Other Oscar® nominations include "Surfs Up", "Monster House", "Superman Returns", The Chronicles of Narnia: The Lion, Witch & the Wardrobe", "Spider-Man", "Hollow Man", "Stuart Little" and "Starship Troopers".
Also in the Webinar, Ron Richard, Senior Education Program Manager at Autodesk, will describe his company's recent decision to make Autodesk software available without charge to students, teachers, and educational institutions.
"Autodesk is committed to helping prepare an industry-ready workforce with the design skills and knowledge that they need to be competitive. Webinar participants will not only gain valuable insight into the design industry but can also take advantage of free access to the same Autodesk software used by over 12 million professionals worldwide." said Ron Richard, Autodesk Education.
Scott Hamilton, Vertical Market Strategist – Media and Entertainment, will provide information on the specially optimized hardware options for 3D artists from Dell.
3D Training Institute, the Industry's leading provider of production-based programs, will be offering a promotional contest. The grand prize will be the popular 3DTi 16 week training program and a second prize of the 4 week Foundation Workshop. The training programs will be available in the Autodesk software, 3dsMax, Maya, Revit, AutoCAD, and Inventor.
At 3D Training Institute, students learn the software, how to work on projects, and how to be successful in real world jobs. This webinar series on "How to Land Your Dream Job in 3D" springs from 3DTi's commitment to helping 3D artists connect with industry experts and launch successful careers.
Gary Platt, from the 3DTi Advisory Board said, "We are really excited about this free webinar series that will allow anyone who has ever thought or dreamed about having a career in the movie or video game industry to talk to an industry expert about job opportunities and get insider tips on where the jobs are and what it takes to get hired.'
'The webinar is open to anyone who wants to get valuable career advice from an industry giant, Stan Szymanski, free access to Autodesk software, hardware recommendations from Dell and the chance to win a training program from 3D Training Institute. You don't want to miss this webinar on Wednesday, January 21st from 11am to noon Pacific Time. Tell your friends and sign up now!"
For more information and to register for this exciting webinar, click here.
About 3D Training Institute
3D Training Institute (3DTi) is the leading provider of short-term production-based training programs in Autodesk Software. Popular trade magazines have recognized 3DTi as "One of the top schools, where students can put their careers on the fast track." 3DTi was one of the first companies to offer simulated on-the-job training in a live online production environment. 3DTi is an authorized Autodesk Training Center (ATC) and is licensed by the New York State Education Department (BPSS). For more information, visit http://www.3DTraining.com.