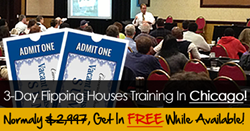 Chicago, IL (PRWEB) May 03, 2014
Learning how to start flipping houses has never been more convenient for real estate investors. Cameron Dunlap's next Vacant House and Foreclosure Summit is now open to all those interested in learning how to make money in real estate, for free. Normally tickets to this 3-day event cost $2,997.
The only commitment Dunlap requires is a $199 seat deposit that is fully refunded upon arrival. The seat deposit is required because Dunlap provides quite a bit of extras for attendees at the event including food, beverages, and additional supplies. The seat deposit allows Cameron and his team to get an accurate number of attendees when ordering these items.
At the Vacant House and Foreclosure summit, attendees will be part of an intense hands-on 3 day training and will learn all of the aspects of making money flipping houses. Some of the topics that will be covered are finding good deals, pre-screening those deals, contacting home owners, estimating repairs, negotiating with sellers, using proof of funds, finding funding, and much more.
The event is not just for new investors either. Cameron reviews techniques and strategies to both build a new real estate business and grow an already thriving real estate business.
Attendees will also get an extensive marketing and lead generation training. This training will cover using direct mail, email marketing, and other highly effect forms of marketing to get a continuous flow of leads.
Katie attended Cameron's last Vacant House and Foreclosure Summit in Chicago and had this to say, "Not only did Cameron teach me step-by-step how to start flipping houses, but he also gave me all of the tools, resources, funding, support, and everything else I needed to start making the day after the event!"
The next Vacant House and Foreclosure Summit will be held on June 6th, 7th, and 8th in Chicago, IL and the registration fees are temporarily being waved. The main focus of this 3-day hands-on training is to teach real estate investors how to start flipping houses in any market. The techniques and strategies Cameron teaches will help new and experienced investors make more money in less time.
To register for Cameron's next Vacant House and Foreclosure Summit while the registration fees are waved, visit http://www.TimeWithCam.com today!