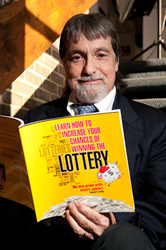 Thank you Mark Sonder Productions and Richard Lustig for giving me the tools required to win the lottery!
Washington, DC (PRWEB) May 28, 2014
Mark Sonder, MM, CSEP and President of Mark Sonder Productions, Inc., the award winning national entertainment producer for large events is proud to announce that his company represents Mr. Richard Lustig, the 7-Time Lottery Game Grand Prize Winner and speaker for corporate, association, casino, and events on the topic of How to Increase Your Chances of Winning The Lottery.
Lustig, has already been featured on:

Good Morning America
Fox and Friends
Headline News
MSNBC
The Rachel Ray Show
TLC's "How The Lottery Changed My Life"
He is also in Ripley's Believe It or Not.
He has made 23 visits to the lottery offices to cash in winning tickets too large for local merchants to pay out.
This week's jackpot is expected to be in the millions. Do you play the lottery? Would it benefit your group to have Mark Sonder Productions provide you with Richard Lustig to present to your group to better prepare to win? If so, please contact Mark Sonder, agent for Mr. Lustig at 540-636-1640.
About Mark Sonder Productions, Inc.
Created in 1985 to fill a growing need for music, entertainment, speakers, headline entertainers and supportive production in corporate and association meetings, conventions and special events plus facilities, casinos and concerts, the company in its 29 years, has worked in the US, Canada, Mexico, South America, Europe and Southeast Asia.
Contact: +1-540-636-1640 or msonder(at)marksonderproductions(dot)com