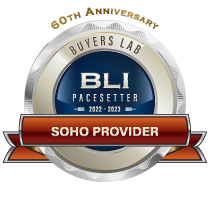 When looking at HP, there was no weak point in its offerings that we could point to. HP truly shines when it comes to providing software and hardware for the SOHO space."
FAIRFIELD, N.J. (PRWEB) November 17, 2021
Keypoint Intelligence, the world's leading independent provider of testing services and analytical information to the document imaging industry, today announced that HP has won the Buyers Lab (BLI) 2022-2023 PaceSetter Award in the SOHO Provider category. This first-time award, which is based on research conducted in the global market, recognizes the company that possesses the best combination of relevant software and hardware solutions to address the fast-growing SOHO market.
For this study, Keypoint Intelligence invited all leading OEMs and vendors serving at least one appropriate market to complete a questionnaire detailing their industry vision, strategy, product portfolio, professional services offerings, security features, and value proposition surrounding the SOHO space. In addition, recent test data was pulled from the bliQ database to further contextualize the information. After gathering all the assets, Keypoint Intelligence analysts used a proprietary rating scale to determine the BLI PaceSetter Award winner.
HP stood out for the sheer thoroughness of its support quality throughout the entirety of the SOHO ecosystem. At every stage (whether it was innovation regarding print as a service, maintaining a firm and consistent level of security, or just providing clients with a wide range of applicable and effective devices), HP showed that it was a company striving to provide exceptional service and products in the SOHO space.
"It's a really important but diverse segment," said Colin McMahon, Associate Director of Hybrid Workflow & Digital Transformation at Keypoint Intelligence. "There are many pitfalls when it comes to the SOHO market: You can have great machines but poor or average technical support, or less than ideal security features, or limited service packages—the list goes on. But looking at HP, there was no weak point in its offerings that we could point to. And the more we dug in with components like HP+, HP Smart Tank, the HP Smart app, and especially HP Wolf Security, the more it became clear that HP truly shines when it comes to providing software and hardware for the SOHO space."
ABOUT KEYPOINT INTELLIGENCE
For 60 years, clients in the digital imaging industry have relied on Keypoint Intelligence for independent hands-on testing, lab data, and extensive market research to drive their product and sales success. Keypoint Intelligence has been recognized as the industry's most trusted resource for unbiased information, analysis, and awards due to decades of analyst experience. Customers have harnessed this mission-critical knowledge for strategic decision-making, daily sales enablement, and operational excellence to improve business goals and increase bottom lines. With a central focus on clients, Keypoint Intelligence continues to evolve as the industry changes by expanding offerings and updating methods, while intimately understanding and serving manufacturers', channels', and their customers' transformation in the digital printing and imaging sector.
ABOUT BLI PACESETTER AWARDS
Based on exhaustive questionnaires, in-depth interviews, and a proprietary rating scale, Buyers Lab PaceSetter Awards recognize those document imaging OEMs that have shown market leadership in a variety of categories, including technologies, services, and key vertical markets.
SOCIAL MEDIA
Connect with Keypoint Intelligence on LinkedIn
Follow Keypoint Intelligence on Twitter
CONTACT
Carl Schell
+1 973-434-7151
carl.schell@keypointintelligence.com