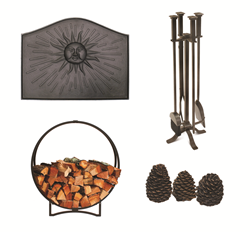 "A gift of fireplace accessories will add to the level of enjoyment and appreciation a homeowner has in his or her fireplace," says Emily McGee, Hearth, Patio & Barbecue Association, director of communications.
ROSSLYN, Va. (PRWEB) December 14, 2018
Photo Caption: A gift of fireplace accessories is always most appreciated during the winter season. From left to right, top to bottom: Firebacks radiate heat and protect masonry, Minuteman International; fireplace tools are practical for fireplace maintenance and rendered in many styles, Pilgrim Home and Hearth; log rings and racks extend the integrity and life of cut wood, Stoll Industries; decorative pine cones are among the wide range of media that has been created for gas fireplaces, Hargrove Manufacturing Corp.
Are you still in need of a great gift idea for the holidays? Consider fireplace accessories. Why? They can be enjoyed immediately, given the time of year. They are both functional and visually pleasing, enhancing the performance of a fireplace as well as the aesthetic appeal of the hearth. Finally, they are a distinctive gift-giving idea.
This, according to Emily McGee, Hearth, Patio & Barbecue Association, director of communications, "a gift of hearth accessories will add to the level of enjoyment and appreciation a homeowner has in his or her fireplace." McGee mentions another reason why hearth accessories make such a great gift: pricing. "High quality fireplace accessories are available in a wide range of prices. Its easy to find something that is within your budget."
As an example, McGee notes the popularity of simulated ash and embers ($12-$45) for gas fireplaces that give the appearance of red, hot burning coals and cinders that have dropped below the flame. "These products appear to be truly real and are really engaging to anyone who sees them."
McGee also says the overall character of a gas fireplace can be dramatically altered by replacing the gas logs with other, more recently-developed media such as colorful glass pellets, sculptural objects, and fabricated pine cones–all of which
radiate heat.
Bellows ($60-$110), which can speed up the process of starting or resuscitating a wood burning fire, make for an impressive and appreciated gift. "Designed in much the same style as they have been for centuries, bellows bring a measure of old world charm to any hearth." Hearth rugs ($35-$75) are another great option says McGee. "They are designed to protect the floor or carpeted area immediately in front of the fireplace and are produced in a wide range of styles."
A set of fireplace tools ($90-$260) which typically consists of tongs, a poker, shovel and a broom, provide you with most everything you need to maintain a fireplace, says McGee. "Whether the preferred look is traditional, contemporary, or of an artisan quality, you will find tools that reflect that given style." If the recipient already has a set, she says, consider adding to them. Long-handled roasting forks designed for fireside cooking are a fun addition and inexpensive.
Firebacks ($145-$250) offer a valuable function and an understated elegance to any fireplace. Often considered merely decorative for the charming, century-old imagery rendered upon them, firebacks actually absorb the heat of the fire and radiate it, making the fireplace more efficient. Equally important, it protects the masonry work in the firebox. Manufactured in stainless steel and iron for use in either gas and wood burning fireplaces, make inquiries as to which execution best serves your needs.
McGee says it's much easier to throw another log on the fire when there's one nearby. "Cut back on the number of times you need to make a firewood run by getting an indoor firewood rack ($150-$300). They are designed in a wide range of sizes, styles and materials." She notes that some are also designed with a removable canvas or leather tote that can be used for the retrieval of a new load of wood when supplies do run short.
McGee says that outdoor accessories created for stacking wood are equally practical. "Handsome log rings and racks ($100-$175) help preserve the wood by keeping it off the damp ground and away from the house in the event that the logs have any kind of infestation." Aesthetically, she says, many are beautifully executed and make a design statement. Other ideas, she says, include fireplace grates, ash buckets, andirons, free-standing fireplace screens, hearth lanterns, and more–which can be previewed on-site at your local hearth shop.
HPBA, based near Washington, DC, is North America's leading advocate for manufacturers, retailers, distributors and allied associates of fireplace, stove, heater, barbecue, and outdoor living appliances. HPBA provides professional member services and industry support in government relations, events, market research, education, certifications.