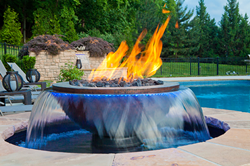 "This revolutionary technology will become a standard ignition system for years to come in the fire industry," says Sean Steimle, CEO HPC Fire Inspired
DAYTON, Ohio (PRWEB) March 04, 2020
HPC Fire Inspired™, the leading gas fire pit manufacturer, will be showcasing two new patent-pending technologies at this year's HPBExpo: TK Torch w/ SmartArc Technology and a Universal Gas Orifice, both up for this year's VESTA awards.
The first new technology is the TK Torch w/ SmartArc Technology which improves electronic ignition without the use of a flame sensor. The flame detection is operated by sensing the plasma arc. As long as there is sufficient power, the flame will continue. If a weak or no arc is detected, the gas would automatically shut off. This new technology offers a more cost-effective and reliable means of enjoying electronic ignition. Sean Steimle, CEO of HPC Fire Inspired, says "this revolutionary technology will become a standard ignition system for years to come in the fire industry".
The second innovation is the new Universal Gas Orifice which allows one orifice to handle either Natural Gas (NG) or Liquid Propane (LP). The Universal Orifice allows for easy conversion between the gases onsite, no disassembly required, and easily converted in seconds. Sean Steimle, CEO, says "by having one Universal Gas Orifice, it allows our customers to eliminate SKUs, product returns, and forecasting".
Steimle goes on to say, "our new messaging, Inspired by Safety. Innovated for your lifestyle represents our continued focus on safety and innovation. These two innovations are another example of our leadership in the industry." Both of these innovations will result in various benefits to our OEM's, Distributors, Dealers, Installers, and Consumers. Come visit Booth #1931 and visit the New Product Pavilion to learn more about HPC's continued innovation in the gas appliance industry.
HPC, based in Dayton, Ohio, is the leading manufacturer of gas fire features and fire-and-water features for residential and commercial applications. Its products are available through hundreds of specialty retailers and select online merchants. HPC – Fire Inspired – http://www.hpcfire.com
Photos and specifications available upon request.