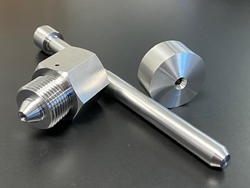 HPP Advisors is driven to provide the highest quality Aftermarket HPP parts at the most economical price points
BRIGHTON, Mich. (PRWEB) October 20, 2020
February 2020, COVID-19 shut down many of HPP Advisors supplier channels. In response to this shutdown, HPP Advisors looked at the manufacturing facilities based in the United States that were deemed essential. "Specifically, we looked to the Rural Communities that were not as affected by Pandemic and were very eager and capable precision machine shops," states Nanette Cameron, President of HPP Advisors.
High Pressure Processing (HPP) is a fully commercialized technology that has gained rapid acceptance in global food manufacturing. HPP is a cold water ultra-high pressure based technology that can drastically extend the shelf-life of fresh products such as meats, poultry, seafood, fruits, vegetables, and dairy. Packaged products are submerged in a water chamber and subjected to pressure greater than five times the deepest parts of the ocean. The products under the intense pressures change the cells of pathogens like E-Coli and Listeria among others.
HPP Advisors only business is High Pressure Processing for the Food Industry. The company offers cost effective, Innovative products and solutions for ALL manufactures and end users of HPP machines. HPP Advisors current Portfolio of Products Made in the USA includes:
Wide Selection of Aftermarket Hiperbaric Parts for the intensifiers and decompression systems
Complete line of 87,000 psi /600 MPa High Pressure Fittings, Plugs and Valves compatible with Avure™/JBT, Hiperbaric, Udhe, and others
Largest Selection of Aftermarket HPP Baskets, Totes, Capsules
Avure™/JBT models AV30/350L, AV40, Avure 687L
Hiperbaric models 55L, 300L, 420L, 525L
Uhde 350L
Select Avure™/JBT Aftermarket HPP custom fittings and decompression parts
HPP Advisors Made in the USA products are the first in the market to offer a 60 Day / 8,000 cycle warranty on all its fittings. "Having been in the HPP Industry for many years, it is refreshing to work with a supplier that understands our pain points and listens to suggestions for providing solutions that increase our machine uptime and increase our through-put per cycle," states Chris Jenkins, COO NutriFresh Services
About HPP Advisors
HPP Advisors is committed to design, develop, and manufacture cost effective and innovative High Pressure Processing Aftermarket Material Handling and Parts for the commercial and industrial applications. We work closely with our customers listening to their pain points and suggestions solutions. We choose supplier relationships that embrace consistent and sustained improvement.