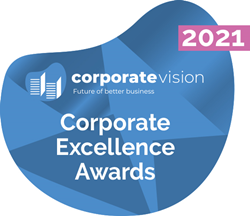 "Being recognized is especially meaningful this year because 2020 has been a challenge" - Amanda Haddaway, HR Answerbox
FREDERICK, Md. (PRWEB) December 03, 2020
HR Answerbox has been recognized by Corporate Vision Magazine as the Best Boutique Corporate Training & HR Consultancy 2021 – USA.
"Being recognized is especially meaningful this year because 2020 has been a challenge" said Amanda Haddaway, managing director of HR Answerbox.
"We've been able to innovate our offerings to best serve our clients with their current HR and training needs. All of our training programs are now available as live or recorded online versions and we've launched a virtual HR service for consulting and compliance support," said Haddaway.
The Corporate Excellence Awards were launched by CV Magazine to showcase the companies and individuals that are committed to innovation, business growth and providing the very best products and services to clients across a wide range of industries.
This award was judged purely on merit by Corporate Vision's in-house team with all potential winners assessed against multiple relevant criteria, including company performance over a given period of time, expertise within the industry, sector or region, previous accolades won, and client testimonials or recommendations.
This is HR Answerbox's second award from Corporate Vision Magazine. The firm was recognized as the Most Influential Leader in HR Training & Advisory Services - USA in 2019.
About HR Answerbox
HR Answerbox provides HR consulting and corporate training services to small businesses and start-ups in for-profit, non-profit and governmental organizations throughout Maryland and Virginia. We work with small business owners, business leaders, office managers, HR, and finance and accounting professionals to help solve the people problems facing your organization.
Our mission is simple: To make better workplaces. Our work makes your life easier, keeps you in compliance and saves you time and money. We believe that your employees matter. We also believe that happy, well-treated employees perform better, stay longer and contribute to organizational success. When HR is done right (and we know a thing or two about that!), it adds value to the entire organization.
For more information, please visit hranswerbox.com.
About Corporate Vision Magazine
Corporate Vision is published monthly with the mission to deliver insightful features from across the global corporate world. Launched with an eye towards bettering business practices across the board, we focus on spotlighting advances in the HR, marketing, coaching and recruitment spheres. To put it simply, we want to shine a light on the gatekeepers of better business. Those that help build, through no small amount of creativity and expertise, to develop an altogether more productive, more efficient world of work. We feature companies that innovate, grow and thrive despite challenges and uncertainty.
With a focused worldwide circulation of over 155,000 business leaders and experts, Corporate Vision remains a vital resource for those who want to remain up-to-date and in-the-know about the latest business news.