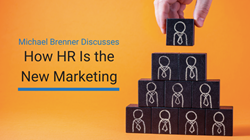 The game is no longer about pushing out ads, but, rather, to activate passion and expertise in the marketers.
AUSTIN, Texas (PRWEB) November 13, 2018
In the latest episode of the Magnificent Marketing Podcast, Magnificent CEO sits down with Michael Brenner - CEO of Marketing Insider Group and the co-author of the best-selling book, "The Content Formula" - to present a podcast on HR as the new marketing.
In 2017, Brenner was listed by Forbes as a top CMO influencer and social media marketer. In this interview, Brenner discusses a range of topics surrounding the modern marketing field, particularly his concept that HR is the new marketing and the importance of tapping into employees' talents.
As Brenner explains, if employees are happy and engaged then this will carry over into the marketing, and one of the most essential tenants of marketing is a human connection. If consumers sense that marketers are warm and inviting, as opposed to cold and distant, they end up being far more receptive.
This is tantamount in modern marketing because, as Brenner says, the game is no longer about pushing out ads, but, rather, to activate passion and expertise in the marketers.
He also dives into the following topics:
-The importance of brand trust
-Fostering a healthy work environment
-Incorporating employees into marketing efforts
-Overseeing employees' content (and when to do it)
-Convincing employees to engage and contribute
-The most common content creation mistakes
-And more!
This episode is available on main podcast channels, on Magnificent's YouTube channel and, along with an accompanying blog, on magnificent.com.
About Magnificent Marketing:
Magnificent Marketing is your full-service content marketing agency that will take care of all your marketing needs so that you can concentrate on the core duties needed to manage and grow your business.
Their objective is to generate leads that turn into customers while focusing on expanding the visibility of your company and brand, and positioning you to be "top of mind" for future potential clients.
In order to achieve this, they draw on their experience and belief that a mixture of traditional marketing techniques combined with modern marketing tools will yield the best results. In other words, they blend old and new school marketing to create the best school of thought.
About Michael Brenner:
Michael Brenner is a globally-recognized keynote speaker, author of The Content Formula and the CEO of Marketing Insider Group. He has worked in leadership positions in sales and marketing for global brands like SAP and Nielsen, as well as for thriving startups. Today, Michael shares his passion on leadership and marketing strategies that deliver customer value and business impact. He is recognized by the Huffington Post as a Top Business Keynote Speaker and a top CMO influencer by Forbes. Follow Michael on Twitter @BrennerMichael.