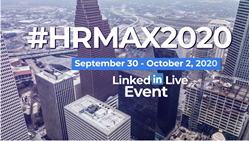 "We strongly support the decision to make the conference an online event to ensure everyone's safety & look forward to returning to in-person events in 2021…We hope to help make this year's gathering more engaging, relevant to today's challenges, & accessible to the community." Aida Fazylova
HOUSTON, Texas (PRWEB) September 29, 2020
HR MAXIMIXER INC. TO HOSTS ITS ANNUAL HHHRA | HR Maximizer CONFERENCE FOR HEALTHCARE
First Virtual Healthcare HR Event on the Current State of Healthcare HR and New Trends in Technology
HR MAXIMIZER Inc., the leading subscription-based HR service company in collaboration with Houston Healthcare HR Association presents the "2020 HHHRA | HR Maximizer Virtual Conference"; its first virtual conference for healthcare executives and professionals.
The conference is scheduled for Wednesday, September 30th to Friday, October 2nd, 9:30am - 12:15pm CST (each day) via Live Stream on LinkedIn LIVE!
The past few months have made it increasingly difficult to make large events safe, hence the decision to delay the annual in-person HR Maximizer conference and move activities onto the virtual space.
The decision to host a virtual conference this year was met with a unanimous support from the healthcare community.
"We strongly support the decision to make the conference an online event to ensure everyone's safety and look forward to returning to in-person events in 2021. As a solution provider that is helping recruiting teams take their hiring events online, we hope to help make this year's gathering more engaging, relevant to today's challenges, and accessible to the community," said Aida Fazylova, CEO and Founder of XOR (https://www.xor.ai)
"Although we would have preferred to have the in-person as scheduled, we certainly understand and support HR Maximizer's decision to convert the existing dates to an online event for safety reasons. We look forward to the in-person events rescheduled to the first quarter of 2020," said Iman Abuzeid, MD — CEO, INCREDIBLE HEALTH (https://www.incrediblehealth.com)
This year's #HRMAX2020 conference will have a panel of experts with decades of experience in the healthcare HR.
Some of the over 30 panelists and presenters include:

Lori Knowles, SVP & CHRO at Memorial Hermann
Omar Reid, Senior Vice President of Human Resources at Harris Health System
Carole Hackett, Senior Vice President of Human Resources at Houston Methodist
Felicia Miller, EVP & Chief Talent Officer at Parkland Hospital & Health System
Shibu Varghese, SVP, People and Business Operations; CHRO / CDO
And topics to be discussed include

Current state of healthcare HR in 2020
Maintaining provider wellbeing and managing burnout
Fostering Inclusive care while combating racism
Staying motivated and engaged in a virtual environment
HR Technology: New trends in the era of COVID-19
Looking beyond competition to build collaboration
And preparing for rapid changes in healthcare HR.
Attendees will also be able to visit virtual booths where they can connect with and interact with speakers and sponsors.
The virtual exhibit hall will be provided by XOR.AI, a fast-growing HR tech startup that helps companies to accelerate and streamline their recruiting efforts using chatbots and artificial intelligence.
The conference would not be possible without the collaboration between HR Maximizer Inc. and Houston Healthcare HR Association, and the partnership and generous support of our sponsors XOR, Incredible Health, Texas Association For Healthcare Recruitment, Conexus Medstaff, Page Up, WebMD Health Services, Nurse.com by Relias, CriminalRecordCheck.com, and Skill Survey.
Attendees may register for access today at: https://www.partners.hrmaximizer.com/virtual-conference-2020
About HR Maximizer Inc.
HR Maximizer is a subscription HR service specialized in healthcare talent acquisition and digital recruitment marketing, and using integrated technology to Maximize your HR. Our Expert Team is spread across 4 states and 6 countries.
For more information, visit:
https://hrmaximizer.com