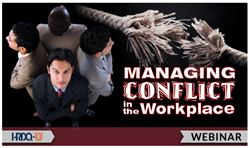 "Trainers look to us for reliable training solutions that produce real results," said Bradford Glaser, HRDQ President and CEO. "Our free webinars give training and HR professionals the opportunity to expand their knowledge, develop new skills, and explore best practices on various topics."
WEST CHESTER, Pa. (PRWEB) August 29, 2019
HRDQ, a leading developer of experiential learning resources for soft-skills training, announces that an informative and free webinar titled "Managing Conflict in the Workplace" will take place on Wednesday, Sept. 4 at 2 p.m. EDT.
"Trainers look to us for reliable training solutions that produce real results," said Bradford Glaser, HRDQ President and CEO. "Our free webinars give training and HR professionals the opportunity to expand their knowledge, develop new skills, and explore best practices on various topics."
The "Managing Conflict in the Workplace" webinar will teach attendees how to achieve the benefits of constructive conflict management. It will , it will explore the three most common types of conflict and the five strategies for managing it
The event will be presented by management expert David Alumbaugh. He has more than 20 years of experience managing institutional-level sales for domestic and international accounts, and he is also an adjunct professor of business at Baker University, where he serves as faculty mentor for the development of new teachers.
This webinar is based on the HRDQ product "Conflict Strategies Inventory." This training workshop improves an individual's ability to successfully handle conflict scenarios in the workplace. "Conflict Strategies Inventory" accurately identifies one's typical reaction to conflict, examines the potential outcomes associated with each strategy, encourages the use of more effective tactics, and the accompanying workshop provides skill practice in resolving day-to-day issues.
Register for the free webinar here: http://bit.ly/346SauC
About HRDQ
For more than 40 years, HRDQ has been a trusted developer of experiential learning resources that help to improve the performance of individuals, teams, and organizations. It offers a wide range of reliable, research-based training materials, including assessments, games, and customizable programs on in-demand topics such as leadership, communication, and team building.