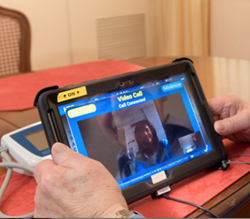 The ability for our hospice team to enhanced the support for patient, caregivers and families using the video visit feature, is incredible. - Carla Braveman Vice President Home and Community Services, VNA of Manchester and Southern New Hampshire
MANCHESTER, N.H. (PRWEB) May 03, 2017
The Visiting Nurse Association of Manchester and Southern New Hampshire continues to innovate patient care with the addition of the advanced patient monitoring solution from Health Recovery Solutions (HRS). The VNA of Manchester and Southern New Hampshire, part of the Elliot Health System, is focusing on reducing readmissions for high risk patients and improving the quality of care provided. Using the new technology, patients, caregivers and families are better able to manage their own care and adhere to care plans. The HRS solution is also being used to improve coordinated care for palliative and hospice patients.
HRS focuses on reducing the main causes of readmissions and ER visits including medication noncompliance, low health literacy, and lack of communication between clinicians, caregivers, and patients. The platform combines innovative patient engagement software with biometric monitoring and mobile apps. All data captured through the devices is automatically and securely transmited back to the clinical team within seconds, allowing real-time interventions for high-risk patients. The solution also triggers alerts for patients at high risk of a medical emergencies.
"The HRS solution is helping us add another level of care and support for our patients and empowering our clinical staff," said Carla Braveman, Vice President Home and Community Services, VNA of Manchester and Southern New Hampshire. "The ability for our hospice team to enhanced the support for patient, caregivers and families using the video visit feature, is incredible."
"The VNA of Manchester and Southern New Hampshire leads the way in patient services, including palliative and hospice care." stated Bill Bassett, Vice President, Client Services, HRS. "Their use of innovative technology will ensure they maintain the leadership position for patient care."
VNA of Manchester and Southern New Hampshire are providing their patients with the HRS patient engagement software on 4G tablets and FDA approved Bluetooth biometric devices. The system proactively helps patients monitor a range of biometric values including blood pressure, weight, oxygen level, blood glucose, and answer daily symptom questions specific to their disease condition. The software also includes disease-specific videos, teach back quizzes, on-demand communication for families, caregivers and patients.
The Visiting Nurse Association of Manchester and Southern New Hampshire service area covers most of Southern New Hampshire. For more information, call us at 603-622-3781 or visit us on our website http://www.manchestervna.org
For information on HRS, call (347) 699-6HRS or visit http://www.healthrecoverysolutions.com