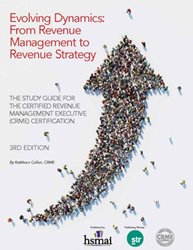 MCLEAN, Va. (PRWEB) June 04, 2019
Reimagine the role of revenue optimization in your revenue strategy. HSMAI's newest publication, Evolving Dynamics: From Revenue Management to Revenue Strategy takes a deep dive into the fundamentals, cross-disciplinary partnerships, and emerging elements impacting revenue optimization. Benefit from new insights, 16 updated chapters, and several new case studies in the updated Certified Revenue Management Executive (CRME) certification study guide. Evolving Dynamics: From Revenue Management to Revenue Strategy will debut at HSMAI's ROC 2019, June 18-19, in Minneapolis, co-located with HITEC.
The third edition of HSMAI's CRME study guide, authored by Kathleen Cullen, CRME, includes contributions from HSMAI's global Revenue Optimization Advisory Boards. While the foundational concepts of hotel revenue optimization largely remain the same since the last edition of this book was published in 2015, new dynamics have come into play and are disrupting the traditional landscape.
In addition to providing detailed education on the fundamentals, this edition gives significant attention to the evolution of, and the new entrants and disruptors impacting, the critical discipline of hotel revenue optimization. Additionally, this edition shifts the focus from traditional rooms revenue management to a more holistic approach of total asset optimization.
Evolving Dynamics: From Revenue Management to Revenue Strategy features a new section on revenue strategy, preparing you for the future of the hotel industry as new technologies emerge to support and disrupt hotels' strategies. Updates in the study guide integrate often-siloed disciplines so that they have access to the same data, aligned on goals, and are collaboratively focused on profitability. Learn how revenue strategy offers a longer-term, comprehensive, and holistic approach to driving profitability using revenue optimization, sales, marketing, distribution, and analytics to help you optimize revenue at all levels.
The third edition CRME study guide also includes section updates on competitive set options, channel versus the purpose of travel, and pricing methods. Even further, this edition incorporates new chapters, case studies, and an expanded glossary.
New chapters include:

Technology Operations, Marketing Operations, and Data Analytics
Owners
Strategic Distribution
Marketing in a Digital World
Solidify your expertise in revenue optimization and revenue strategy from top to bottom. Evolving Dynamics: From Revenue Management to Revenue Strategy offers the latest data on the market, departmental integration, segmentation, forecasting, pricing, inventory control, and performance analysis. The guide is available in digital and print formats and at a discounted price for HSMAI members. The publishing partner for Evolving Dynamics: From Revenue Management to Revenue Strategy is STR.
About HSMAI
The Hospitality Sales and Marketing Association International (HSMAI) is committed to growing business for hotels and their partners and is the industry's leading advocate for intelligent, sustainable hotel revenue growth. The association provides hotel professionals and their partners with tools, insights, and expertise to fuel sales, inspire marketing, and optimize revenue through programs such as HSMAI Digital Marketing Strategy Conference, Adrian Awards, and Revenue Optimization Conference. Founded in 1927, HSMAI is a membership organization comprising more than 5,000 members worldwide, with 40 chapters in the Americas Region. Connect with HSMAI at https://www.hsmai.org, http://www.facebook.com/hsmai, http://www.twitter.com/hsmai, and http://www.youtube.com/hsmai1.