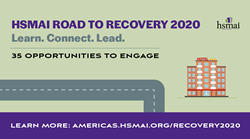 "By offering the widest range of digital and virtual educational programs on essential topics we have ever produced, HSMAI aims to help lead the industry forward," said Robert A. Gilbert, CHME, CHBA, president and CEO of HSMAI.
MCLEAN, Va. (PRWEB) August 14, 2020
The Hospitality Sales and Marketing Association International (HSMAI) is setting the stage for industry recovery through the newly developed HSMAI Road to Recovery 2020 fall education plan. Focused on revenue, relevance, and recovery, the plan is designed to connect hospitality colleagues in a meaningful way while offering affordable programs and tools for hotel sales, marketing, and revenue optimization professionals. As the newest part of this approach, HSMAI is introducing Recovery Connections, which is a series of live webinars paired with small group discussions. View the road map infographic here.
HSMAI surveyed members and other industry professionals on their educational needs in this critical time and have developed the HSMAI Recovery 2020 program based on the results. Survey respondents said the top ways they want to learn to include self-paced online courses (76%); instructor-led online courses (69%); and webinar presentations from industry experts (57%).
"Sales, marketing and revenue professionals will be driving the front line of the recovery of the hotel industry and they can benefit greatly from any of these experiences which will provide insights, tools and best practices that are needed to navigate this unprecedented landscape," said Robert A. Gilbert, CHME, CHBA, president and CEO of HSMAI. "By offering the widest range of digital and virtual educational programs on essential topics we have ever produced, HSMAI aims to help lead the industry forward."
HSMAI is taking a five-pronged approach to developing unique and affordable experiences that benefit organizational, above-property, and on-property hotel members:
1. RECOVERY CONNECTIONS
HSMAI's Recovery Connections has two components: live best practices webinars with small group discussions, and on-demand micro-learning comprised of three tracks in sales, marketing, and revenue optimization. Recovery Connections will feature live sessions every Thursday starting on October 8, 2020. The live sessions will have a strategic focus for the above-property target audience, with a 30-minute presentation followed by breakout sessions to discuss implications and share best practices. HSMAI is also offering Recovery Connections On-Demand Micro-Learning, which is intended to build a library of short recordings and how-to videos with a tactical focus for the on-property audiences. 
2. LEADERSHIP
The Leadership track of HSMAI Recovery 2020 includes:
» CURATE Presents: Resilience Now: HSMAI is reimagining Curate, an Executive Insights Forum presented exclusively for Organizational Member companies, as a three-part interactive webinar series led by leadership and performance consultant Dr. Jannell MacAulay. Addressing personal, professional, and organizational resilience, CURATE Presents: Resilience Now will be held on September 11, 18, and 25. All associates from an HSMAI Organizational Member company's membership roster may participate. Learn more about HSMAI Curate online.
» Small Screen, Big Impact Master Class: HSMAI and the HSMAI Foundation are teaming up with Mindset Digital to help HSMAI and industry members connect in a virtual world, write for action, leverage LinkedIn to build a profile to engage with industry colleagues, and design and deliver presentations and meetings through small screens. This program is free for HSMAI members thanks to the HSMAI Foundation. Learn more and register.
» Outlook 2021: An exclusive opportunity to hear from Bernard Baumohl, chief global economist for The Economic Outlook Group, who will provide insight into factors impacting recovery in tourism and the economy around the globe.
3. EXECUTIVE ROUNDTABLES
HSMAI's Executive Roundtables are 90-minute educational sessions for six peer groups of senior executives: hotel chief marketing officers, chief sales officers, chief revenue officers, chief digital officers, chief loyalty officers, management company sales and marketing executives. Each peer to peer Executive Roundtable is attendee-driven and focuses on building best practices.
4. HOTEL ESSENTIALS
HSMAI is offering four HSMAI Hotel Essentials Online Certificate Courses, which are collaborative educational classes led by expert faculty over five to six weeks. Essentials courses:

Hotel Digital Marketing Essentials Series
Hotel Revenue Optimization Essentials Series
Hotel Digital Sales Essentials Series
Hotel Data Analytics Essentials Series
The Essentials series are 100% online, instructor-led, certificate courses. To learn more about Essentials visit HSMAI University.
5. CERTIFICATION
HSMAI offers industry-leading certification opportunities for hospitality and tourism professionals to demonstrate their expertise and better position their careers. Certifications include:
Certified Hospitality Revenue Management Executive (CRME)
Certified in Hospitality Business Acumen (CHBA)
Certified Hospitality Digital Marketer (CHDM)
HSMAI is offering discounted pricing of up to 50% on these important programs during this difficult time to allow more industry professionals to receive certifications. Explore HSMAI Certifications by visiting HSMAI University.
With the assistance of leading industry partners, all aspects of HSMAI Recovery 2020 will be offered at reduced, affordable prices. Sponsorship opportunities are available for all components. Contact Elise Rhinehart at erhinehart@hsmai.org for details.
Learn more about the HSMAI Road to Recovery 2020 at https://americas.hsmai.org/recovery2020/.
About HSMAI
The Hospitality Sales and Marketing Association International (HSMAI) is committed to growing business for hotels and their partners and is the industry's leading advocate for intelligent, sustainable hotel revenue growth. The association provides hotel professionals and their partners with tools, insights, and expertise to fuel sales, inspire marketing, and optimize revenue through programs such as the Adrian Awards, HSMAI ROC, Marketing Strategy Conference, and Sales Leader Forum. Founded in 1927, HSMAI is a membership organization comprising more than 5,000 members worldwide, with 40 chapters in the Americas Region. Connect with HSMAI at hsmai.org, HSMAI Facebook, HSMAI Twitter, and HSMAI YouTube.