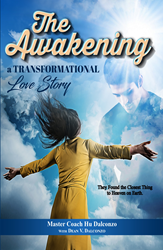 "My hope is that souls who read my book will relate to the emotional challenges, insights, and transformational life lessons that my characters experience as if it was happening to them," - Hu Dalconzo
FORKED RIVER, N.J. (PRWEB) October 22, 2018
Master Coach Hu Dalconzo, already the author of 14 nonfiction books, turns his attention to fiction with his recently released novel The Awakening: A Transformational Love Story.
Overcome by tragedy when his fiancee, parents and best friend are killed in a car crash, Mark is determined to commit suicide by swimming into the ocean until he drowns. But fate intervenes and he instead saves the life of Paula, who has been knocked into the ocean during a boating accident.
Paula, a holistic practitioner, knows their encounter happened for a reason, and she sets out to help Mark transcend the tragedy haunting him. The two embark on a journey of spiritual awakening, with repercussions that could affect the entire planet.
Dalconzo, a premier authority in the spiritual-life coaching industry, draws on his experiences from facilitating over 20,000 coaching sessions to take his characters in on their life-changing pilgrimage and spiritual partnership.
"My hope is that souls who read my book will relate to the emotional challenges, insights, and transformational life lessons that my characters experience as if it was happening to them," Dalconzo says. "This novel's stories are based on what happened to real people, in real time. That's because this psycho-spiritual love story is based on what I learned facilitating tens of thousands of coaching sessions over the past two and a half decades."
Donald D. Hartman, author of The Lemurian Connection, says: "The Awakening is more than just a transformational adventure. The author has used the approach of a romantic novel to serve as the carriage to transport you mentally across the veil on to the spiritual side of the universe on a journey across the ethereal planes."
About Hu Dalconzo
Hu Dalconzo, author of the Amazon Bestselling book The Awakening: A Transformational Love Story, is founder of Holistic Learning Centers Inc., which is the oldest Spiritual Life Coaching Certification school in North America. He has written 14 "How To" professional coaching textbooks based on what he learned while facilitating over 20,000 coaching sessions since 1993. Through researching the work of more than 150 psycho-spiritual self-help authors such as Wayne Dyer, Deepak Chopra, Hay and Tolle, gurus, leaders and saints, he developed an educational learning system for spiritual-life coaches called the HuMethod.™