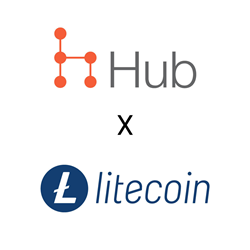 We are excited to partner with Hub to continue to engage with the Litecoin community in a new and even more engaging way,
MOUNTAIN VIEW, Calif. and SINGAPORE (PRWEB) December 10, 2020
Hub and Litecoin Foundation are pleased to announce they have entered into a global partnership to deliver virtual and hybrid events, content and announcements to the Litecoin Foundation's global community of nearly 1,000,000 members on the rapidly growing Hub global community platform.
"We are delighted to support the need for engagement during COVID times when it is difficult for the Litecoin Foundation to engage with its community through face-to-face events," Hub founder Eric Ly said. Ly was also a co-founder of LinkedIn, the world's most successful professional network with more than 700 million users. "Hub also enables the global community of the Litecoin Foundation to interact and rewards members for meaningful and trustworthy interactions," Ly said.
"With the pandemic still affecting the globe, we were searching for a platform that could effectively deliver virtual events for our global community. We are excited to partner with Hub to continue to engage with our community in a new and even more engaging way", Charlie Lee, Managing Director of Litecoin Foundation, said.
Hub and Litecoin Foundation have created a virtual event series called The Litening Series to deliver news and bring the community together. Recent Litening Series events have included significant announcements such as the Litecoin Visa Card, introduction of fungible Litecoin transactions via the MWEB layer protocol, a community discussion on a possible velvet fork with Cardano, and the launch of a limited edition Silver Litecoin Block Ballet wallet. A replay of recent events is available in the Litecoin Community on Hub.
The Hub platform is a cryptocurrency-based community platform that rewards users for engaging in global trusted communities while helping them develop portable and verified identity profiles based on interactions with other users.
About Litecoin Foundation
The Litecoin Foundation is a non-profit organization whose mission is to advance Litecoin for the good of society by developing and promoting state-of-the-art blockchain technologies. Litecoin is a peer-to-peer digital currency that enables instant, near-zero cost payments to anyone in the world. The Litecoin Foundation Ltd. is headquartered in Singapore (registered UEN# 201709179W) with an active team contributing from around the globe. For more information, visit litecoin-foundation.org
About Hub
Started in 2018 by LinkedIn co-founder Eric Ly, Hub's vision is to encode identity and reputation on the blockchain to become the next digital identity protocol interoperable across multiple platforms. By putting identity data, one of the most valuable data types, back into the hands of users, people gain access to an unprecedented level of economic opportunity and financial freedom. The Hub ecosystem includes the Hub platform at joinhub.com, a rapidly growing rewards-based event and community platform, and partner companies in the background verification and DeFi areas. For more information, visit hubtoken.org.