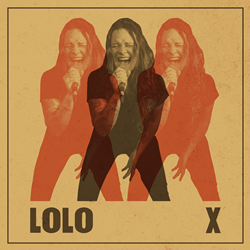 I titled the album 'X' because X is in my son's name, and X marks the spot of my hometown — two parts of my life that have forever shaped and changed me.
JACKSON, Tenn. (PRWEB) January 28, 2022
Grammy-nominated singer-songwriter LOLO (Lauren Pritchard) and Hub City Brewing are partnering to host a Rockabilly Residency, showcasing LOLO's music from her new album "X." Show dates for the live concert series are Jan. 28, Feb. 4 and Feb. 11, 2022, at Hub City Brewing, 250 W. Main St., Jackson, Tennessee. Ticket information is available at drinkhubcity.com/events.
"X" is LOLO's celebration of her hometown's Rockabilly roots that feature her interpretation of such classics as "Blue Suede Shoes," "Ooby Dooby" and "Let's Have a Party." Distributed by New York City's No Reverse Records, "X" became the No. 1 Blues pre-order on iTunes after presales opened Dec. 3 and reached No. 1 on the day of its Dec. 17 release. At a release day listening party held at Tennessee Legends of Music Museum at the Carnegie Center (jacksoncarnegie.com), guests watched the premiere of a behind-the-scenes documentary about the making of the album.
Her third album release follows the 15th-anniversary reunion concert of Broadway's Tony Award-winning musical "Spring Awakening" last November. Pritchard, who played the role of Ilse in the original musical, produced the event with fellow cast member Jonathan Groff. Held at Broadway's Imperial Theatre, the event brought together all the original cast, including Lea Michele. Discussing the fact that Michele and Pritchard both have one-year-old children led to the idea of the one-night reunion concert, which sold out and will be featured as a 2022 HBO documentary.
In discussing the album, Pritchard said, "I was a very young girl, age 6, in a silver-sequined jacket, pink leotard and turquoise skirt with white patent leather shoes. I marched up to the three-foot riser stage at Highland Park in Jackson, Tennessee — my hometown and the home of Rockabilly — and belted out 'Blue Suede Shoes.' My shoes weren't blue, but I was still gonna sing about my 6-year-old heartbreak. What started as simply singing about heartbreak turned into a career and lifetime of writing about my own heart-breaking moments. I titled the album 'X' because X is in my son's name, and X marks the spot of my hometown — two parts of my life that have forever shaped and changed me."
After leaving Jackson as a teenager, Pritchard began building her diverse musical career. As LOLO, she has collaborated and performed with Panic! at the Disco, including as a co-songwriter for "High Hopes" and "Say Amen," both of which debuted at No. 1 on the Billboard 200. "High Hopes" achieved No. 1 on all radio platforms, marking its place in history as the longest-running No. 1 song on the Billboard Rock Chart. Pritchard also is the composer and lyricist of the country/folk musical "Songbird," which had its off-Broadway premiere in 2015, followed by a run in 2018 and another planned for Spring 2023.
Since returning to her hometown of Jackson, where she lives with her husband, son and fur babies, Pritchard has been dedicated to promoting the arts and serving neighbors. One of her many community projects has been providing food for those who are food insecure. For the past six years, she has partnered with other artists to host a brunch at Hub City Brewing to benefit the Regional Inter-Faith Association's Snack Backpack Program; it provides more than 1,000 children at 14 elementary schools weekend meals during the academic year.
More information about Pritchard's music can be found at https://lolomusic.com.