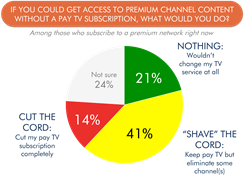 Boston, MA (PRWEB) January 30, 2015
According to the survey…

Two-thirds (63%) of consumers are very or somewhat interested in subscribing to a premium channel online (e.g., HBO, Showtime), outside of a Pay TV subscription. That includes 23% who are very interested in the idea.
Among those who already subscribe to premium networks, 71% said they would be interested in a standalone online subscription.
And younger consumers (age 18-34) find the idea most appealing of all: 75% are interested, and 31% are very interested.
However: while standalone premium subscriptions may find a receptive audience, it doesn't appear that they'll trigger an avalanche of cord cutting.
Only a small minority of premium network subscribers say they'd drop their Pay TV service entirely. 14% say they'd completely "cut the cord" if they could subscribe to premium channels without having to have a pay TV subscription.
More likely, the impact would take the form of cord "shaving": 41% say they'd drop some of the channels they get today if a standalone premium subscription were available.
"There's been a lot of speculation about the impact of "sticker shock" among consumers interested in subscribing to individual channels online—including the prediction that most will ultimately realize that they get more for their money with a Pay TV subscription," said Peter Fondulas, Partner at Hub Entertainment Research. "That may end up being the case, but stand-alone online subscriptions are intriguing, and potentially disruptive, because they satisfy what has evolved from a wish to an expectation: that consumers should be able to pick and choose just the services they want, unbundled from services they don't want."
"The New TV Experience" was conducted in December 2014 among 1202 TV consumers with broadband internet, aged 16-74.
An excerpt report from this study, along with information on how to subscribe to Hub's syndicated research, is available from Hub's website, http://www.hubresearchllc.com.