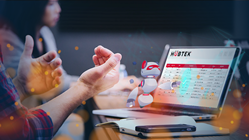 Our Task Automation Bot technology automates routine tasks for motor carriers, brokers, 3PLs, freight forwarders and other logistics operations
PORTLAND, Ore. and MIAMI (PRWEB) February 28, 2020
Hubtek, a workforce optimization provider for the transportation industry, today announced its new Task Automation Bot technology for eliminating time consuming and costly transportation and logistics management workflow processes. Using Robotic Process Automation (RPA) software technology, the Bot can be integrated with any transportation or enterprise management system without requiring the development of an API.
"Our Task Automation Bot technology automates routine tasks for motor carriers, brokers, 3PLs, freight forwarders and other logistics operations," said Ricky Gonzalez, CEO of Hubtek. "Across the industry, valuable time is spent on workflow tasks that could be used to generate revenue and enhance customer satisfaction. We have built our Task Automation Bot so your staff is free to excel at sales and service and not be glued to a keyboard entering data."
Initial capabilities of the Hubtek Task Automation Bot include recognizing information in emails and putting them into appropriate categories, such as available loads, quote requests and load tenders. Using RPA, a rules-based software technology driven by Machine Learning and AI to perform high volume, repetitive tasks ten times faster than a human, the technology turns unstructured and semi-structured data in documents, spreadsheets and emails into structured data.
"That saves your staff from having to read each email and then determine an appropriate plan of action," Gonzalez stated. "With our Task Automation Bot, information is organized accurately in a matter of seconds, which also speeds response times for customer inquiries. In addition, it leads to workforce satisfaction, which can reduce the need to use working capital to recruit and train employees."
The new Task Automation Bot technology complements Hubtek's workforce augmentation offering for filling back office, operations, sales and marketing, and IT positions with talent that it recruits, hires, trains and manages. The co-employment program provides cost-effective near-shore talent sourcing for companies in the transportation and logistics industry.
Hubtek, founded on the 16 years of experience at TranStrategy Partners developing successful strategies for over 300 companies, is perfectly positioned to drive growth across the North American logistics industry. "Hubtek brings premium solutions to freight brokerage firms looking to maximize their business and accelerate their performance," said TranStrategy Partners founder Joel McGinley and managing director of Hubtek. "We are an evolving next-generation company that will take advantage of cost-effective near-shore talent sourcing while developing and providing successful transformative growth strategies to those organizations."
About Hubtek
Hubtek is a technology and talent firm that offers task automation, outsourced talent and effective training in the logistics industry. Its extensive experience solving complex business problems leads to highly effective growth strategies for success. Hubtek was formed in 2018 as a joint venture between TranStrategy Partners in the U.S. and a leading provider of logistics talent management in Colombia. For more information, visit http://www.gohubtek.com.