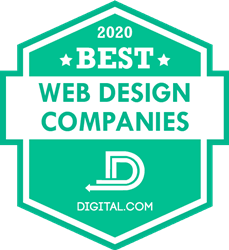 SEATTLE (PRWEB) August 25, 2020
Digital.com, a leading independent review website for small business online tools, products, and services, has named Hudson Integrated to its list of best web design companies of 2020. Service providers were selected based on multiple service lines, size of the firm, and industry focus. The guide identifies the top 20 companies from across the web with detailed reviews.
Hudson Integrated and other digital agencies offering web design and digital marketing services to clients across various industries, such as manufacturing, real estate, and information technology, were considered for the final list. Design companies were also rated based on size and the ability to provide personalized attention or manage large complex projects. In addition to key features, the guide highlights customer feedback and pros and cons.
Experts at Digital.com conducted 40 hours of research and analyzed over 250 web design firms. To access the complete list of top web design companies and detailed reviews, please visit https://digital.com/web-design-companies/.
ABOUT HUDSON INTEGRATED
Hudson Integrated is an award-winning digital agency headquartered in Morristown, New Jersey, servicing small, mid-sized and Fortune 500 companies across a variety of industries. Hudson specializes in web development and design, digital strategy, brand strategy, and eCommerce solutions. Hudson works with an array of companies and organizations to help harness the power of digital to drive business growth. Visit http://www.hudsonintegrated.com to learn more.
ABOUT DIGITAL.COM
Digital.com reviews and compares the best products, services, and software for running or growing a small business website or online shop. The platform collects twitter comments and uses sentiment analysis to score companies and their products. Digital.com was founded in 2015 and formerly known as Review Squirrel. To learn more, visit https://digital.com/.