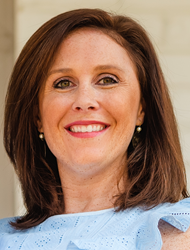 Jenny Mitchell is the perfect person to have on board with us as we move forward in the scoping and implementation of new products and services
NEW YORK and ATLANTA (PRWEB) January 10, 2020
Hudson MX, a cloud-based modern software company solving the problems of local media, announced today that Jenny Mitchell has joined the company as Head of Customer Success. Jenny joins Hudson MX from Sizmek, the world's largest independent buy-side advertising platform. Over the course of her extensive tenure with Sizmek, Jenny managed a broad array of teams through a series of developments that ultimately culminated with the acquisition by Amazon. Based out of the Atlanta headquarters, Jenny will be overseeing operations for both New York and Atlanta while reporting directly to CEO JT Batson.
"The most crucial steps in building out a world class client support system are getting everyone focused on the same goal and making sure that the goal is achievable," said Jenny Mitchell. "Hudson MX was founded on a very realistic vision for creating much needed solutions for the advertising industry. And that vision has already yielded solid results to share with prospective team members looking to join us in New York and Atlanta."
"Jenny Mitchell is the perfect person to have on board with us as we move forward in the scoping and implementation of new products and services," said Jay Stevens, President of Hudson MX. "She brings intricate knowledge of agency software system needs, digital domain expertise, and the ability to see every aspect of the business from the customer perspective. Most importantly, Jenny possesses the invaluable skill of being able to decipher between big problems and little problems and determine the correct amount of water to pour on any given fire."
A native of Gainesville, Georgia -- and a graduate of The University of Georgia where she double majored in Art History and Advertising -- Jenny resides in Atlanta with her husband and son.
"Atlanta has afforded me the luxury of staying close to family while having an exciting career," Jenny continued. "I'm very grateful to have access to the diverse, dynamic, and tech-savvy talent pool that is drawn to this highly affordable melting pot of a city. People coming into Hudson MX in one role will have endless opportunities to grow into other roles, and the Atlanta/New York cross-pollination that comes from having dual headquarters only enhances that potential."
About Hudson MX
By creating modern software that empowers the local buyer of the future, Hudson MX is leveling the playing field between local TV buyers and their digital media peers. The world's most respected media agencies and sell-side vendors are partnering with Hudson MX to bring the process of local TV buying into the 21st Century for the benefit of today's advertisers. Hudson MX is looking to build on its initial success and expand its offerings by recruiting the best and brightest for its New York and Atlanta dual headquarters. Learn more about Hudson MX at http://www.hudsonmx.com, LinkedIn and Twitter (@HudsonMXinc).
Media Contact for Hudson MX:
Pete Holmberg
York24 Public Relations
Pete.Holmberg@York24.com
917.501.7434