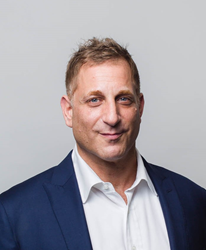 Judd Rubin is one of the best people in this industry when it comes to connecting resources and getting people on board with essential change
NEW YORK and ATLANTA (PRWEB) October 14, 2019
Hudson MX, a cloud-based modern software company solving the problems of local media, announced today that Judd Rubin has joined the company as Senior Vice President, AgencyCloud™. Respected throughout the media landscape for his ability to identify market opportunities and scale revenue, Judd will team up with agencies and their trading partners to enable customized marketplaces through the capabilities of AgencyCloud™ — the suite of open APIs that drives integrations between agencies and media partners, technology partners, and data partners.
Judd joins Hudson MX from FreeWheel Advertisers, where, as SVP Revenue and Marketing, he led FreeWheel's demand monetization program and strategic partnerships, and launched the industry's first buyer-centric OTT marketplace. Prior to serving as the principal of his own consulting firm, he led Mediaocean's media convergence growth initiatives with a focus on digital video and audio. During his tenure with Mediaocean, Judd worked with JT Batson, the Co-Founder and CEO of Hudson MX.
"Judd Rubin is one of the best people in this industry when it comes to connecting resources and getting people on board with essential change," commented JT Batson. "Our conversation around solving the problems of local media transactions began seven years ago when we were both frustrated by the proliferation of unstructured data and lost opportunities created by outdated systems and disparate technology. The ecosystem at that time was challenging to work within, and almost impossible to interact with from the outside. With the introduction of AgencyCloud™, we have created pathways for seamless transactions, a mechanism for all activity to become structured data, and the incentive for any potential partners to optimize their business by leveraging our solutions."
"Legacy systems worked perfectly in a closed environment, but interoperability is the backbone of business in 2020," commented Judd Rubin. "Agencies and partners shouldn't have to conform to the limitations of their software. By starting fresh, our clients get to dictate how they want to work and whom they want to work with to best serve their clients. With AgencyCloud™ providing a seamless communication layer to the Hudson MX platform, we are able to make collaboration and connectivity easy and configurable. JT and his team have built a solution that is healthy, fair, and a vital addition to the ecosystem. And in doing so they have cleared the way to make local media exciting again."
Judd discovered his passion for data-driven innovation while serving as a Senior Research Analyst for Monitor Group, where he worked with such clients as Coca-Cola, Merck, and Heineken. Judd has more than 20 years of cross-industry experience in advertising, technology, political and management consulting, and has advised Fortune 100 companies along with some of the country's top media organizations. Utilizing his expertise, he has launched new technology and business models for a wide range of media and technology companies. Judd earned his B.A. in Political Science from Vassar College and currently resides in Manhattan.
About AgencyCloud™
With open standards central to the mission of Hudson MX, the suite of AgencyCloud™ APIs were developed in lockstep with the BuyerAssist™ platform. AgencyCloud™ enables a healthy and fair ecosystem where connectivity and protocols are open to everyone who works with agencies. One of the first AgencyCloud™ integration partners is WideOrbit.
About Hudson MX
By creating modern software that empowers the local buyer of the future, Hudson MX is leveling the playing field between local TV buyers and their digital media peers. In 2019 its BuyerAssist™ platform was used to process $2 billion of local media buys for 30 leading agencies in all 210 markets, servicing 300 national advertisers. The world's most respected media agencies and sell-side vendors are partnering with Hudson MX to bring the process of local TV buying into the 21st Century for the benefit of today's advertisers. Hudson MX is looking to build on its initial success and expand its offerings by recruiting the best and brightest for its New York and Atlanta dual headquarters. Learn more about Hudson MX at http://www.hudsonmx.com, LinkedIn and Twitter (@HudsonMXinc).
Media Contacts:
Code Morris for Hudson MX
Pete Holmberg
pete.holmberg@codemorris.com
917.501.7434