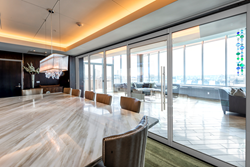 GF Series increases wall spans and provides greater flexibility.
JANESVILLE, Wis. (PRWEB) December 07, 2018
The Hufcor GF Series Acoustical GlassWall is an attractive low profile framed operable glasswall for interior applications featuring no floor tracks, clean lines, best-in-class acoustics and excellent clearview. Available in both Omni (single) and Paired panel configurations, the GF Series can fill openings from 10'-5" high to 45' wide with panels up to 4' wide. The aluminum construction and ½" glass found in the GF Series makes for easy to operate panels that are as durable as they are beautiful. And in yet another example of Hufcor leading the way for operable walls, the GF Series features best-in-class system-tested acoustics with sound transmission class (STC) performance up to 38 STC*.
Hufcor's GF Series comes standard in an attractive and easy to maintain clear anodized finish with other aluminum anodized finishes available as special order. Options abound for the GF Series with 6 different glass types and 3 different door handles in multiple lengths and finishes**. Also new to the GF Series line-up are an easy to use waist-high activated edge pin system and new floor pin and locking system with 2 different lock choices (available in multiple finishes) and a master key prep option for master-keying in the field. Hufcor's GF Series has been designed for a 1" floor clearance with 1-1/2" floor pin engagement – this means GF Series can be installed in more uneven floor applications than typical glasswalls. Also, the new Omni interlocking panel design means fewer floor pins making for easier installation and reduced installation cost. Meanwhile, paired panels features a new Type 40 2-wheel carrier that allows for tight panel stacking when the wall system is stored***.
The GF Series can be installed anywhere that an interior glasswall system is desired. For those installations with inadequate overhead support, GF Series can be installed in conjunction with Hufcor's Unispan® support system.
With the GF Series, architects, general contractors, owners and operators don't need to continue to settle for acoustical glasswall systems with annoying floor tracks or sketchy (or non-existent) system acoustical test reports. Hufcor's GF Series is the affordable and beautiful way to manage and brighten interior space for just about any application.
To see the GF Series in action check out this video.

All Hufcor acoustic operable wall systems are sound tested in a NVLAP-certified lab with system test reports published and available upon request
** Most new InVista™ glass and handle options are also available for Hufcor GL Frameless Glasswall
*** Type 40 "Tight Stack" carriers are also available on Hufcor GL Frameless and GT Timberframe paired panel glasswall systems
About Hufcor
At Hufcor, we exist to shape the experience that people have within a built environment – we're in the business of space management. Offering the widest range of glass, operable, vertical lift and accordion partitions, our products shape space by providing flexible sight and sound separation, and enable our customers to control the atmosphere and experience of their space. Shaping your experience isn't just about what we do, but how we approach business. Committed to advancing what's possible in space management, we are consultants that have more, do more, and deliver more for our customers. Every day we work with architects, contractors, and building owners across markets to help them maximize the utilization of their space to realize what's possible. We shape our customer's experience through the breadth and quality of our expertise, capabilities and products along with our inherent drive to solve problems. This uniquely positions Hufcor to reliably deliver exactly what's needed.