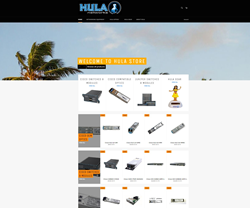 Managed IT Services & shopping tailored for you
SAN JOSE, Calif. (PRWEB) May 09, 2019
We have designed our IT services and our e-commerce site with you in mind, streamlining menus, simplifying navigation, building a responsive layout for real-time in stock sale items and providing more resources on our products and services.
Hula Professional IT Services:
Hula Networks offers a complete suite of traditional IT services including network assessments and discovery, network design, network migrations and implementation, IT audits including penetration testing.
Hula Networks also offers Desktop support, Office 365 Migration, IT Security, Cloud migration and virtualization support.
Hula Networks also offers managed Networks services custom designed to service your needs. If you require fully managed day to day management, management of non-critical resources or spot services such as SD WAN, managed wireless or hosted security services we have the solutions available for you.
We also offer complete indoor and outdoor wireless services offerings including wireless project planning and design, wireless remediation and discovery services and complete wireless installation and support services including cabling and access point installations. We are experts in working in challenging environments and service all industries including education, healthcare, government, industrial warehousing and large outdoor venues.
Hula Networks designs are custom-tailored to your current and future business forecasts and technology needs. Our goal is to ensure that your network architecture meets your enterprise plans growth and will scale appropriately. Our team is highly skilled and will provide you with the best solution possible while keeping budget constraints in mind. We have project-based service menus or block hour contracts to cater to your needs.
E-Commerce Update:
We are delighted to officially announce the launch of our E-commerce page for popular in stock items. As of May 9, 2019, you will be able to find real time deals and shop online at E-commerce.
Hula's new E-commerce page allows the visitor the ability to view current stock deals, take advantage of Hula 3rd party optics, great Hula branded personalized merchandise, and the ability to shop 24x7. Feel free to use our Contact Us page with additional information or Live Chat feature.
We encourage everyone to visit and explore our company site and discover the full spectrum of Hula's partnerships, products and services.
Hula Networks takes great pride in introducing the right technology to our clients while factoring in their specific operational requirements and budgetary constraints into the equation.
Our customer centric focus is on designing, installing and supporting the network infrastructure that is best for your companies needs as opposed to the OEM flavor of the day.
Hula Networks' ability to sell both new and used networking equipment along with our buy-back programs for your surplus network hardware and our reputation for integrity, quality, and excellence is what sets us apart from our competition. We invite you to join the growing list of 10,000+ customers serviced over the last 20 years and find out what true customer centric service can mean to you in your organization.
Toll Free Phone: 866-HULANET
Email: sales@hulanetworks.com
Web: https://www.hulanetworks.com