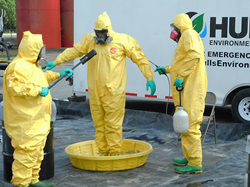 TAMPA, Fla. (PRWEB) March 30, 2020
Hull's Environmental Services, Inc. (Hulls), as an emergency response provider for hazardous and biohazardous substances, offers Coronavirus, a.k.a. COVID-19, disinfection and corrective action services to customers in need.
Hull's has all the necessary personnel, training, equipment and expertise on hand and ready to respond. Whether it's following a confirmed case of exposure to the coronavirus, a suspected case of exposure to the coronavirus or just for precautionary measures, Hulls field personnel are properly trained to disinfect a wide array of different settings including but not limited to office buildings and office spaces, manufacturing plants and facilities, retail establishments, restaurants, motor vehicles, motor vessels and industrial equipment.
Operating under Standard Operating Procedures that meet or exceed guidelines provided by the Centers for Disease Control (CDC), the World Health Organization (WHO) and the Occupational Safety and Health Administration (OSHA), Hull's disinfection teams have methodical and controlled instructions on how to disinfect, decontaminate and dispose of biohazardous substances, biological threats and blood-borne pathogens such as COVID-19.
The disinfection teams are all trained in 40-HAZWOPER, blood-borne pathogen, confined space entry, CPR and First-Aid. Managers across the organization average nearly 20 years of experience in both emergency and non-emergency biohazardous or infectious disease response including incidents involving actual or suspected Anthrax, Ebola, H1N1, Avian Bird Flu and SARS.
Hull's currently serves a variety of industries including aviation, railroad, shipping, food processing, manufacturing, insurance, oil and gas as well as federal, state and local governments.
About Hull's Environmental Services
Hull's Environmental Services, Inc. is a woman-owned small business operating from locations in Florida, Georgia, Oklahoma and Texas. Throughout the southeast and mid-central United States, Hull's performs a variety of environmental services including emergency spill response for oil, fuel and hazardous materials, biohazardous and infectious disease disinfection, contaminated site remediation, hazardous & non-hazardous waste transportation & disposal, oil-field services, industrial cleaning & maintenance, vacuum truck services, tank cleaning and a wide variety of other related services for both the public and private sector. Hull's is also a United States Coast Guard certified oil spill removal organization (OSRO) for all or portions of COTP Zones five, seven, eight, nine, eleven and thirteen.