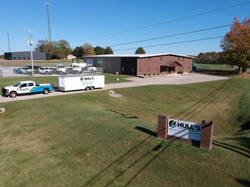 Nashville has an incredible outlook when you look at the growth statistics...coupled with our existing customer base, it was a logical decision to set up shop in Nashville.
NASHVILLE, Tenn. (PRWEB) October 27, 2020
Officially opening the doors on October 15th, 2020, Hull's has announced their newest environmental services facility in Nashville, Tennessee. Positioned just 23 miles due north of Nashville, the facility is located at 2271 Industrial Court in Greenbrier, Tennessee. The new Nashville location complements existing Atlanta, GA, Jacksonville, FL, Panama City, FL, Winter Haven, FL and Tampa, FL facilities in the southeast and numerous facilities in Oklahoma and Texas.
The new facility will provide environmental services to public entities and the private sector. They include emergency spill response for oil, fuel and hazardous materials, hazardous and non-hazardous waste transportation and disposal, industrial cleaning, vacuum truck services and contaminated site remediation. Like all other Hull's locations, this new location is expected to provide clients with a team of highly trained and skilled professionals with a commitment to health, safety and the environment. All Hull's personnel, at a minimum, are trained and certified in OSHA 40-Hour HAZWOPER (Hazardous Waste Operations & Emergency Response), confined space entry (CSE), and first aid/CPR.
Response crews have the ability to quickly respond to spills and other emergency response incidents on land or in the water, mitigating damage or harm to the environment. In fact, Hull's is a U.S. Coast Guard certified Oil Spill Removal Organization (OSRO) with the ability to serve the needs of marine clients that may require water-borne emergency response services. Accordingly, the new location is equipped with a fully stocked emergency response trailer (ERT), response boats, sorbent and containment boom, skimming equipment, and a variety of pumps.
Tony Payne, the company's Executive Vice President, said, "I'm thrilled to announce our expansion into Nashville. We have existing customers in the railroad, transportation, manufacturing, and utility industries that we can better serve. We're also confident that new business development in Nashville's dynamic and booming economy has tremendous upside and potential to further build our customer base. Conditions like this are what make investing in an area a much easier decision."
According to 2017 Chamber of Commerce data, Nashville was the number five fastest growing metropolitan area in the country for trade, transportation and utilities, number three for natural resources and mining and number one for other services.
Director of Marketing and Business Development, Jamie Michael, noted that, "Nashville has an incredible outlook when you look at the growth statistics. They are strong indicators of a growing metro area that public entities and private sector businesses are investing and doing business in. Coupled with our existing customer base, it was a logical decision to set up shop in Nashville."
About Hull's Environmental Services:
Hull's Environmental Services, Inc. is a certified SBA, woman-owned small business operating from locations in Florida, Georgia, Oklahoma, Tennessee, and Texas. Throughout the southeast and southcentral United States, Hull's performs a variety of environmental services including emergency spill response for oil, fuel and hazardous materials, contaminated site remediation, hazardous & non-hazardous waste transportation & disposal, industrial cleaning & maintenance, vacuum truck services, tank cleaning and a wide variety of other related services for both the public and private sector.
Directly serving the oil and gas industry in Oklahoma, Texas and New Mexico, Hull's offers a wide array of oilfield services including dust suppression, soil remediation, waste disposal, storage tank cleaning, oil/water-based mud disposal, saltwater disposal, fresh water sales, frac tanks, soil and aggregate hauling, pipeline support, pad building and dirt work utilizing dozers, excavators, graders, backhoes, end dumps, belly dumps, dump trucks, winch trucks, vacuum trucks, bobtails and transports.
In addition, Hull's performs restoration of all types of releases and spills common during the operations of fracking, drilling, completion and production sites on all types of oilfield facilities and well sites.
Hull's is also a United States Coast Guard certified oil spill removal organization (OSRO) for all or portions of COTP Zones five, seven, eight, nine, eleven and thirteen as well as a Florida Department of Environmental Protection designated 24-hour emergency response contractor / discharge cleanup organization (DCO).