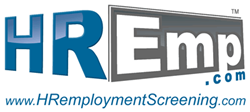 HRemploymentScreening.com is a new service that was launched in order to provide companies with advanced employment screening services.
Boston, MA (PRWEB) October 20, 2014
Screening Intelligence recently announced a new addition to its portfolio. HRemploymentScreening.com is a new website that was launched in order to provide companies with advanced employment screening services, including national criminal background checks.
HRemploymentScreening.com was created with HR professionals and large companies in mind. The website aims to provide business owners, hiring managers and human resources professionals with all of the advanced employment screening services they need in order to make sound decisions about future employees at their respective organizations. The professionals at HR Employment Screening recognize that security is a top priority at companies across the globe today, and they want everyone to have access to the most advanced employment screening services in the shortest amount of time.
Services provided by HRemploymentScreening.com include:

National and International Criminal Background Checks — Obtains criminal background check information from local, state and national criminal records sources. A free national sex offender registry check is included.
Employment Verifications — Verifies information provided on a resume, such as start and end dates, salaries and titles.
Education Verifications — Verifies educational information that is provided to job seekers, such as where the applicant studied, education start and end dates, and graduation verification.
Driving Records — Checks public driving records for the applicant who is applying the job.
Professional Reference Verifications — Verifies any professional references that are provided by the job seeker.
Drug Test — Obtains public drug test results that are available.
Credit Reports — Pulls credit report information from the largest credit reporting agencies.
Screening Intelligence is proud to be the parent company of this new website, which will allow business owners and human resources professionals across the country to make better hiring decisions. Job seekers must be held accountable for the claims that they make about themselves during the hiring process. HRemploymentScreening.com offers comprehensive advanced employment screening services at an affordable cost.
About Screening Intelligence LLC
Screening Intelligence provides accurate and affordable background check solutions to help employers make informed employment screening decisions. County criminal data is retrieved from thousands of local and county courts in all 50 U.S. States. Pre-employment screening and tenant screening services include: comprehensive criminal background records, federal background records, county background records, sex offender registry search, national eviction records, and social security traces.