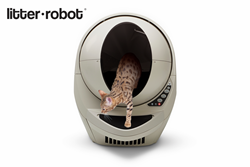 Don't be a scooper.
AUBURN HILLS, Mich. (PRWEB) November 27, 2019
Litter-Robot, the highest-rated self-cleaning cat litter box on the market, has released a humorous and relatable video on why cat parents should stop scooping the litter box. Since its release one week earlier, the video has garnered more than 2 million views across Facebook and YouTube.
The video follows narrator "Kizzy" through an inside look at the lives of cat parents who are still scooping the litter box. Kizzy simultaneously charms and disgusts her audience with the idea of how a cat's paws can track feces from a dirty litter box to various places around the house. The video points out that cats need a clean litter box every time they do their business—which is precisely what the Litter-Robot provides.
A hilarious cast and high production value drives home the message that scooping is a thing of the past: The self-cleaning Litter-Robot takes care of that dirty business for you, leaving a clean bed of litter for your cat every time. "Our goal with this video is to help cat parents visualize why they should no longer be scooping the litter box," said Jacob Zuppke, COO of AutoPets, the manufacturer of the Litter-Robot. "With a Litter-Robot, you never have to scoop cat litter again and your kitties have a clean toilet every time. It's better for you and your cat."
Litter-Robot has released the video across several media platforms, including TV, web, social media, and beyond. Multiple cuts of the video in varying lengths are also circulating the web to determine which message most effectively resonates with cat parents.
As part of a Black Friday promotion, Litter-Robot will be offering several special product bundles with values up to $100, now through December 2. For more information on the product bundles, visit Litter-Robot.com.
About AutoPets
AutoPets, the inventor, manufacturer, and retailer of the Litter-Robot, is an international leader in developing highly functional pet products that make pet care easier and more enjoyable. Launched in 2000 by founder and President Brad Baxter, the Litter-Robot is the highest-rated automatic, self-cleaning litter box on the market. AutoPets is a 2017/2018/2019 Inc. 5000 company based in Auburn Hills, Michigan, with 90+ passionate employees who are dedicated to improving the future of pet care. For more information on AutoPets, visit http://www.litter-robot.com/about-us.html