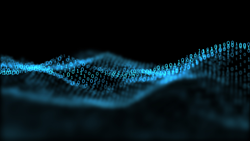 This ambitious cryptocurrency project.. will build upon a solid and progressive digital market base, and will be accessible worldwide.
ORLANDO, Fla. (PRWEB) February 03, 2021
According to recent studies, the market value of all the world's cryptocurrencies surpassed $1 trillion. Statista, a statistical portal for global market data, announced that the cumulative market capitalization of cryptocurrencies grew around 300% in 2020, as digital coins became an increasingly investment tool. This was even above the market cap reached in 2017 - for many consumers, the break-out year for Bitcoin and its fellow-currencies.
The global quantum cryptography market size is estimated to be USD 89 million in 2020 and is projected to reach USD 214 million by 2025, at a CAGR of 19.1%. The latest research tells us that major growth factors for the market include the growing incidents of cyber-attacks in our current era of digitalization, increasing cybersecurity funding, rising demand of next-generation security solutions for cloud and IoT technologies, and evolving next-generation wireless network technologies. This ambitious project, in combining the forces of quantum-proof IT security and cryptocurrency, will build upon a solid and progressive digital market base, and will be accessible worldwide.
The funding structure of the project was engineered by Mr Gilles Herard. Mr Herard is a seasoned merchant banker and has been in the banking industry for over 40 years. As Managing Director of Capital Corp Merchant Banking, Mr Herard has become a leading figure in international middle-market project financing and engineers all funding structures for projects at Capital Corp. Mr Herard has received numerous awards for his work and other contributions including being appointed to the Presidential Business Commission, Honorary Co-Chairman of the Business Advisory Council, awarded Executive of the Year by the internationally acclaimed National Register's Who's Who, and having lately received the Gamechanger of the Year award by Acquisition Finance magazine, among many others.
About Capital Corp Merchant Banking: Capital Corp Merchant Banking offers quality Merchant Banking services for a variety of projects worldwide. Capital Corp Merchant Banking is solution-oriented and known for being the most flexible Funding Source on the Market in creating handcrafted investment structures to meet the needs of the different constituent groups in each individual transaction, including general project funding, equity funding, debt restructuring, and real estate development. For further information, please visit our website.