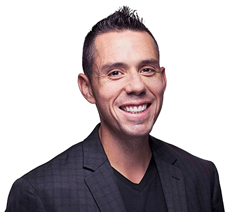 NEW YORK (PRWEB) September 28, 2021
Hungryroot, the first and only AI-powered personalized grocery service, announced the hiring of Dominic Paschel who will serve as Chief Financial Officer. Paschel's hire is part of a group of strategic hires in 2021 that include a Chief Marketing Officer and Chief Digital Officer to strengthen the company's leadership team and drive company growth and innovation.
Paschel brings nearly two decades of Silicon Valley experience in finance and investor relations, where he transitioned three revolutionary private start-ups seeking to disrupt category convention with AI and machine learning into some of the fastest growing publicly traded companies in technology. Paschel's expertise will be invaluable to guiding Hungryroot's aggressive growth trajectory, following the company securing $40 million in a Series C funding round.
"Dom's experience bringing the next generation of new technologies to market to create category disruption and leading innovative companies to their full growth potential will be pivotal to Hungryroot's next phase of growth," said Ben McKean, Founder and CEO of Hungryroot. "His passion for disruptive technology and proven track record of successfully growing and scaling innovative companies will be fundamental to Hungryroot's expansion and how we usher in this new age of AI grocery shopping."
Paschel comes from a background of extensive experience in initial public offerings of high-growth companies. He most recently served as Senior Vice President at Yext, an AI enterprise search company, where he oversaw investor relations and served as Global Head of Asia Pacific Finance. In 2011, he led Pandora's $241 million IPO serving as Vice President of Corporate Finance and Investor Relations before it's $3.5 billion acquisition by Sirius. Pandora pioneered the Music Genome Project, paving the way for the first AI driven music streaming service.
Prior to Pandora, he directed the highly anticipated $124MM IPO of the SaaS-based HR Cloud Company, SuccessFactors, and implemented its pre- and post-IPO communication strategy, before its eventual $3.4 billion acquisition by SAP. Paschel also managed Investor Relations at Salesforce, introducing the first pure-play Software-as-a-Service (SaaS) company to the capital markets after it went public in 2004. He has achieved notable awards from Institutional Investor (II) Internet as top ranked for the best IRO and IR Program.
As Chief Financial Officer, Paschel will lead Hungryroot's financial organization, and will be responsible for accounting, financial planning and analysis, legal, tax, treasury and investor relations.
Hungryroot recently raised $40 million in a Series C Funding Round led by L Catterton, to help grow the team, invest in automation technology, and scale its overall marketing efforts. The new C-suite hires, including Alex Weinstein as Chief Digital Officer & Stephanie Retcho as Chief Marketing Officer, will be focused on driving Hungryroot's mission of pioneering an entirely new way to grocery shop, and strengthen the leadership team as the company plans for the future.
Hungryroot is on track to achieve $175 million in revenue this year. The company is forecasting over $300 million of revenue in 2022 and is one of the most capital-efficient businesses in the grocery industry. This is driven by its strong customer retention and best-in-class proprietary predictive technology that delivers groceries and recipes that best suit individual needs.
Learn more about Hungryroot at: http://www.hungryroot.com
About Hungryroot:
Hungryroot is your personal grocer, powered by AI and the belief that food deeply impacts your daily life. You tell us a little about yourself, and we use our proprietary predictive technology to deliver groceries and recipes that best suit your individual needs and goals. We also assist with meal planning and nutritional support, helping you save time, save money, shop sustainably, and eat what makes you feel your best.
Hungryroot first launched in 2015 as a better-for-you foods brand. Now six years later, Hungryroot is pioneering an entirely new way to grocery shop through predictive, personalized grocery delivery. Along with offering the best modern brands, Hungryroot continues to develop its own line of innovative healthy products, including the brand's award-winning Black Bean Brownie Batter. Check us out at: http://www.hungryroot.com