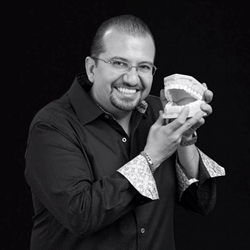 Huntington Beach, CA (PRWEB) August 11, 2017
The Invisalign clear aligner trays are one of the most popular orthodontic treatment systems currently available. Invisalign offers a variety of specialized systems for both adults and teens who want to straighten their smiles. Huntington Beach dentist, Dr. Rassouli, has a list of 10 things parents should know about the Invisalign Teen orthodontic system.
1. Invisalign Teen uses clear aligners instead of wires and brackets, which gradually shift teens' teeth into place.
2.Invisalign Teen is just as effective as metal braces when worn as recommended by an experienced Invisalign orthodontist. This treatment can fix most common orthodontic problems, including crowding, gaps, overbites and underbites.
3. Treatment time may vary based on the severity of your teen's orthodontic issues. Most patients complete treatment in approximately 12 to 18 months, which is comparable to metal braces.
4. The cost for this treatment varies based on the number of aligners needed to complete your teen's treatment plan and your insurance coverage. In some cases, Invisalign Teen may cost the same amount of money as traditional braces.
5. Invisalign aligners are comfortable to wear and easy to clean, as they are removable. Unlike with traditional braces, patients do not have uncomfortable, bulky appliances attached to their teeth.
6. Invisalign Teen allows patients to focus on themselves and their rapidly improving smiles.
Teens often feel self-conscious and embarrassed about crooked teeth, and braces can make matters worse because teens get distracted by unsightly metal and wires. Invisalign gives your teen the confidence of discreet orthodontics.
7. For maximum effectiveness, teens must wear Invisalign at all times, unless eating or tending to dental hygiene.
8. Invisalign Teen allows up to six free replacement aligners during treatment.
9. Teens will spend less time in the dental office when using Invisalign because there is no need for orthodontic adjustments. Most teens schedule appointments every four to six weeks.
10. Dr. Rassouli, can help teens find out if they are candidates for this treatment through a standard, non-evasive consultation for Invisalign, Invisalign Teen, Invisalign for adults, and Invisalign Express.
About Dr. Rassouli:
Dr. Rassouli has been an Invisalign Preferred Provider since 2011. A graduate of USC Dental School, he co-founded the South Coast Dental Academy, an organization that offers ongoing educational opportunities to Orange County dentists. During his time at USC, he was recognized for his academic accomplishments and leadership skills, and served on the accreditation and ethics committees. He served on the prestigious Century Club at USC after graduation and was a part-time clinical faculty member.