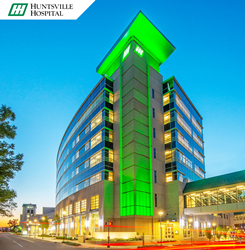 The cornerstone at Huntsville Hospital is a focus on patient-centered, quality-focused processes, which lead to optimum healthcare outcomes...This is why we are excited to adopt MEDI+SIGN's proactive communication technology." -Arin Zapf, Chief Nursing Officer at Huntsville Hospital
SMITHSBURG, Md. (PRWEB) January 05, 2022
MEDI+SIGN®, a healthcare technology company that provides automated communication to the patient's bedside, announces that Huntsville Hospital has chosen to implement MEDI+SIGN's technology into their newly constructed Orthopedic Tower.
Huntsville Hospital is an award-winning, 881-bed hospital that serves as the regional referral center for North Alabama and southern Tennessee, and is the second-largest hospital in Alabama. In recent years, the hospital has expanded its services throughout the region with the development of Huntsville Hospital Health System, which includes hospitals in Huntsville, Madison, Athens, Decatur, Boaz, Guntersville, Red Bay, Sheffield and Scottsboro. The Health System includes more than 2,200 patient beds and 15,000 employees.
The 86-room project at the Huntsville Hospital location includes digital whiteboards located on the footwall of each patient room and digital nurse station monitoring displays.
"The cornerstone at Huntsville Hospital is a focus on patient-centered, quality-focused processes, which lead to optimum healthcare outcomes," says Arin Zapf, Chief Nursing Officer at Huntsville Hospital. "This is why we are excited to adopt MEDI+SIGN's proactive communication technology. We can elevate the patient experience by providing accurate, real-time safety, plan of care and patient education information, while substantially reducing staff workload."
The implementation of MEDI+SIGN at Huntsville Hospital includes digital whiteboards located at the footwall of each patient room, to replace the traditional dry-erase boards. The data is displayed with minimal effort from the staff, being integrated with the hospital's EMR, reducing errors and duplication. Nurse station monitoring displays will also be implemented to provide the care team with vital patient and staff information. These displays act as a quick reference for clinical information, room and nurse assignments, rounding, as well as proactive safety information.
"To partner with Huntsville Hospital is truly an honor," says David Linetsky, Founder/CEO of MEDI-SIGN. "We are eager to support them with their mission to provide high quality patient care. With MEDI+SIGN, patients and their families have access to vital information and the staff have more time and resources to focus on what they do best—caring for their patient."
With MEDI+SIGN, Huntsville Hospital Health System supports its commitment to these core values:

Safety. Accurate and real-time communication displayed on digital patient room whiteboards can reduce sentinel events. Nurse Station monitoring displays updates the care team and patient on key clinical information and potential isolations.
Accountability. Displaying information directly from the EMR communicates the practitioner's diagnosis and objective patient data, resulting in an improved environment of quality and accountability.
Compassion. With MEDI+SIGN, healthcare providers no longer need to take the added step of updating the whiteboard. They now have more time to spend at the patient's bedside.
Excellence. The implementation of MEDI+SIGN allows for more opportunities to create operational and workflow efficiencies across administrative, clinical, and informatics teams.
About Huntsville Hospital Health System
Huntsville Hospital was established in 1895 and is a community-based, not-for-profit hospital located in Madison County, Alabama. It has always been volunteer-led and community owned. Huntsville Hospital serves as the regional referral center for North Alabama and Southern Tennessee and is also a teaching facility and is home to one of only three statewide Level I Trauma Centers. In addition to being accredited by the Joint Commission, Huntsville Hospital has received numerous recognitions for excellence in patient care. The Huntsville Hospital Health System includes hospitals in Huntsville, Madison, Athens, Decatur, Boaz, Guntersville, Red Bay, Sheffield and Scottsboro. The Health System includes more than 2,200 patient beds and 15,000 employees. https://www.huntsvillehospital.org/our-system
About MEDI+SIGN
MEDI+SIGN is a game-changing communication tool used by hospitals that are pursuing the creation, improvement, and sustainability of their quality and safety goals. Driven and perfected by evidence-based outcomes, MEDI+SIGN deploys strategies tailored to the hospital's specific needs and existing workflows. This unique approach allows hospitals to experience quality and safety transformations without negatively impacting the day-to-day workflow of staff. MEDI+SIGN is the first and only patient-facing technology in its class that requires minimal effort from clinical staff while reinvesting time back to the bedside. With patient experience and complex psychology at the epicenter of this technology, patients are kept informed, satisfied, and safe. Beyond patient experience, MEDI+SIGN focuses on improving HCAHPS and increasing patient safety by preventing falls as well as other sentinel events related to HAC, among other CMS programs. To experience these results for yourself, visit https://medisigndisplays.com.