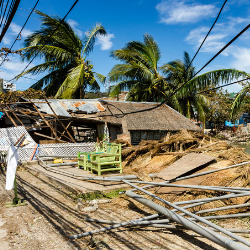 "The best way to safeguard your home against flood damage, and at the same time lower your insurance premiums, is to elevate your house above the floodplain."
Clearwater, FLA (PRWEB) September 09, 2019
Hurricane Dorian slammed through the Bahamas over the weekend, resulting in a reported death toll of 20 (and growing) and causing billions of dollars of damages--it was the strongest hurricane to make landfall in the Atlantic since 1935[1]. As it makes its way through the Carolina's, it's projected to bring up to 12 inches of rain[2]. The flooding and damages will be especially devastating for coastal homeowners or those in flood-prone areas. Randy Young, CEO of ArcDesign, a residential design and drafting firm, knows firsthand that the costs of flooding go far beyond financial. "Hurricane Dorian is a brutal wake up call for coastal residents everywhere. After these natural disasters, insurance companies experience an inundation of claims and builders are in high demand, which means many residents will be out of their homes for months or even years."
Dorian's timing is eerie; Hurricane Harvey hit southeast Texas on Aug. 25th, 2017—Dorian struck the Bahamas on Sept. 1st—almost exactly one week later. Since Harvey made its initial landfall, approximately 92,000 Texans received flood insurance payouts for an estimated $8.92 billion. Many Texans without flood insurance, however, had to rebuild their lives using whatever savings they had[3].
Even today, thousands of Harvey survivors remain homeless or live in damaged structures. And then there's the physiological trauma many have endured by reliving their ordeal with each storm, making lists of items, worrying, or trying to comfort family members troubled by memories of the floods[4].
Is this what to expect in Dorian's aftermath as well?
Many people feel the Federal Government will come to the rescue of hurricane victims. In Houston's case, city and county officials received a combined $2.5 billion in recovery funds from the U.S. Department of Housing and Urban Development. As of Aug. 15th --two years later--city officials had only disbursed financial aid, or begun repairs, on 15 homes. The county had yet to start any repairs[5].
A spokesperson for Federal Emergency Management Agency (FEMA) said they have increased their incident workforce management by 25 percent since Harvey hit Houston—but there's still a shortage of around 2,000 employees.
It's easy for people to believe they have everything covered with flood insurance; however, it isn't cheap. Coverage in coastal areas is costly and could raise an annual home insurance premium by $5,000 on a policy that otherwise costs less than $1,000[6]. Even with insurance, the months or years of waiting to have a home rebuilt could be devastating to a family.
The most practical and surest way to prevent destruction, homelessness and pain from flooding is to elevate one's house before a catastrophe occurs. According to St. Petersburg, Fla. city officials, home elevation may soon become more popular. Flooding is a constant threat for low-lying coastal areas; a single inch of water costs more than $26,000 in damages on average[7]. On top of that, federal flood insurance premiums have risen steadily for years — a cost that is likely to increase as flooding becomes more prevalent[8].
According to FEMA,home elevation is practical for almost any flood situation due to the numerous elevation techniques available. In general, it is more economical to raise a home than it is to tear it down and build a new one. A design professional must evaluate the ability of your existing foundation to support the loads that will be imposed by the elevated house.
"The best way to safeguard your home against flood damage, and at the same time lower your insurance premiums, is to elevate your house above the floodplain," said Young. "Every hurricane season brings the possibility of a major flood event. If Dorian's track had not turned northward, flooding would have been a major problem for many Florida homeowners."
"This is another wakeup call for homeowners," Young continued. "Preventative elevation techniques to help decrease damages and deaths do exist--homeowners should become more familiar with these options and their benefits before the next disaster strikes."
For anybody with inquiries about home elevation in light of the recent hurricanes, please contact ArcDesign at manager@arcdesign7.com.
About ArcDesign
ArcDesign, headquartered in Clearwater, Fl has been providing custom home design, renovations and permit designs for residents and contractors since 2003. With an unrelenting commitment to quality, they have been awarded the prestigious Best in Houzz Service Award six years running. Influenced by a multitude of 5-star reviews, clients often refer to ArcDesign as the home designers that people recommend. They excel in designs and permits drawings for additions, remodeling and rebuilding. ArcDesign also specializes in designs and plans to raise houses in flood zones to protect homes from flooding. For more information visit: https://www.arcdesign7.net
###
1. Stanglin, Doug, and Trevor Hughes. "Hurricane Dorian Death Toll in the Bahamas Jumps to 20 and Is Expected to 'Increase Significantly'." USA Today, Gannett Satellite Information Network, 5 Sept. 2019
2. Fedschun, Travis, and Danielle Wallace. "Tornadoes Hit Carolinas as Hurricane Dorian Floods Charleston; 200K without Power." Fox News, FOX News Network, 5 Sept. 2019
3. Omriben Shahar. "Lessons from Hurricane Harvey Federal Flood Insurance is the Problem not the Solution. August 30, 2017.
4. Morris, Mike. "Two Years after Harvey, Has Houston Lost Its Urgency on Flood Repairs, Prevention? It Feels That Way for Those Who Still Need Help." 23 Aug. 2019.
5. Ibid.
6. Ibid.
7. After Hurricane Harvey, Insurance News Net, August 23, 2019.
8. Writer, Times Staff. "Answer to Rising Waters? Raise the House." Tampa Bay Times, Tampa Bay Times, 26 Aug. 2019.