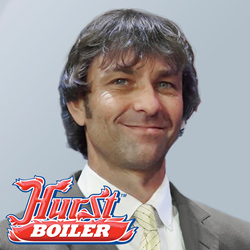 "Since he's been here, he has proven that he is an exceptional communicator and a great leader," said Ray Pierce, Hurst National Sales Manager.
COOLIDGE, Ga. (PRWEB) May 04, 2020
Hurst Boiler is pleased to announce the promotion of Matt Whittington, a 13-year veteran of the Hurst Boiler Sales team to Domestic Package Boiler Sales Manager. He will assume those duties at the end of April.
Whittington was hired in 2007 as a regional sales associate, quickly showing an aptitude for creating a heightened sense of teamwork and communication within the Sales Department.
Whittington will be responsible for developing and maintaining channels to gain profitable market share on a national level. He will work with inside and independent sales representatives to maintain existing accounts and help with cultivating new customers. He will also collaborate with product training and other support resources. Whittington began his career with Hurst Boiler thirteen years ago as part of a strategic plan for him to step into this position.
"Since he's been here, he has proven that he is an exceptional communicator and a great leader," said Ray Pierce, Hurst National Sales Manager. "We thought he was a great choice to take on this role. Matt has the integrity and the business acumen to be a Sales Manager. He is fully knowledgeable of the Hurst product line as well as the intricacies of the greater boiler industry."
Matt has extensive experience in both the managerial and sales sides of the boiler industry. Beginning his career at Hurst working at the inside level as a salesman, and later earning manager and district manager's responsibilities for larger accounts throughout the country.
"Customer Service has always been my biggest priority.", says Whittington. "It is critical in the relationship process, it is critical in the sales process, and it is critical in what we do here. My background helps me make decisions, based on how it affects our representatives and customers. Those are the people that keep us in business. I'm looking forward to the challenge."
About Hurst Boiler & Welding Co.
Hurst Boiler & Welding Company, Inc. has been manufacturing, designing, engineering and servicing gas, oil, coal, solid waste, wood, biomass, and hybrid fuel-fired steam and hot water boilers since 1967. With installations across all industries worldwide, Hurst Boiler is recognized for the highest code standards, innovative engineering and design, Energy Star rating, and renewable, sustainable solutions for green building design and operational efficiency. Also specialized in the manufacturing of modular biomass boiler systems, Hurst's boiler vessel designs (CRN registered) include firebox, vertical tubeless, hybrid water/ fire-tube, and water-tube. Hurst manufactures seven different types of biomass stoker/gasifiers, which have used 2,000+ different types of biomass fuels. In addition to a complete line of steam and hot water boilers, Hurst Boiler also manufactures a complete line of boiler parts and boiler room peripherals and provides unparalleled turnkey after-market products and services to deliver complete installation and operation to its customers. To learn more about Hurst Boiler, please visit http://www.hurstboiler.com.