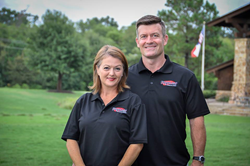 As a husband and wife team, we think Fresh Coat Painters of The Woodlands is the perfect combination of Fresh Coat's national expectation for excellence and our local, family passion for raising the bar in the painting industry. - Heidi Disdier
THE WOODLANDS, Texas (PRWEB) September 24, 2018
Bryan and Heidi Disdier are pleased to announce the launch of their new, local, professional painting company, Fresh Coat Painters of The Woodlands.
Fresh Coat Painters offers residential and commercial painting services including interior or exterior painting, deck sealing and staining, pressure washing, wall paper removal and other services for nearly every protective coating application. Because of the Disdiers' professional background, they are also offering kitchen cabinet refinishing services. Fresh Coat of The Woodlands has a 24/7 receptionist, online scheduling and free detailed quotes, and they only use high-quality materials. Fresh Coat Painters of The Woodlands serves The Woodlands, Spring, Klein, Conroe, Tomball, Magnolia and the surrounding areas.
As part of Fresh Coat's focus on service, they offer a 3-3-3 customer service pledge, so calls will be answered by a live person within three rings, a quote will be delivered within three days (customer schedule permitting) and the job will be started within three weeks. All Fresh Coat Painters employees are specially trained, dependable and background-checked and Fresh Coat Painters of The Woodlands is bonded and insured. Fresh Coat Painters also has a national product partnership with Sherwin-Williams®.
"We pride ourselves on offering top-notch customer service and we are backed by Fresh Coat Painters' national expert painting and business support staff. As a husband and wife team, we think Fresh Coat Painters of The Woodlands is the perfect combination of Fresh Coat's national expectation for excellence and our local, family passion for raising the bar in the painting industry," Heidi said.
Heidi taught elementary school for seven years and has been a stay-at-mom for the last six years, working to raise the couple's three sons – Kai (14), Andre (6) and Beau (5). While staying home, she found a passion for refinishing antique furniture, which grew into refinishing kitchen cabinets. Bryan has worked in the food industry and in construction. He has always wanted to own his own business and, when he saw the beautiful work Heidi was doing with furniture and cabinetry, he realized they had an opportunity.
"I started thinking about how owning a franchise could help us expand on what Heidi was doing for our friends and other people in the community when I came across Fresh Coat Painters. I talked to other Fresh Coat owners throughout the country and found that the Fresh Coat support system and focus on helping owners achieve their goals was exactly what we needed. As Fresh Coat Painters of The Woodlands, we are able to help the people throughout our area to love their homes again, whether it's by helping with a cabinetry project or painting an entire home. People want painters they can trust and that's what we want to bring to this community – a trustworthy, local, professional painting company," Bryan said.
Fresh Coat was founded in 2004 as part of Strategic Franchising Systems. Since 2015, Fresh Coat has been included in the Bond's Top 100 and named to Entrepreneur Magazine's Franchise 500 list. Fresh Coat is also part of the International Franchise Association, the Small Business Association's Franchise Registry, VetFran and Minority Fran.
For more information about Fresh Coat of The Woodlands, call (832)998-3867, email BDisdier@FreshCoatPainters.com or HDisdier@FreshCoatPainters.com, or visit http://www.FreshCoatPainters.com/TheWoodlands.