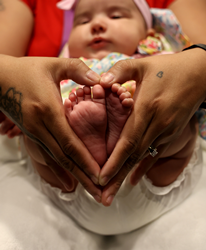 "The thought of a baby withdrawing from opioids is unimaginable, yet it is a reality that many families are facing," said Bob Parsons, Co-Founder of The Bob & Renee Parsons Foundation. "Hushabye Nursery is providing hope and compassionate care, not only to newborns but to their entire family."
PHOENIX, Ariz. (PRWEB) November 14, 2022
The Bob & Renee Parsons Foundation is offering a $1 million match to support Hushabye Nursery's inpatient detox nursery and recovery center for infants experiencing Neonatal Abstinence Syndrome (NAS). The match campaign has kicked off and provides a dollar-for-dollar match for donations received through April 15, 2023.
"We're so grateful for The Bob & Renee Parsons Foundation's on-going support," said Tara Sundem, Hushabye Nursery Executive Director and Co-Founder. "A baby is born every 15 minutes with NAS resulting from prenatal opioid exposure. Our approach is distinctly different from a typical hospital neonatal intensive care unit. We provide a private, quiet room with dim lighting for the babies to be cared for as they go through withdrawal. We also include mom in the baby's care and connect her with resources to support her recovery."
Hushabye Nursery provides a therapeutic environment, short-term medical care and social services for infants suffering from NAS, along with outpatient services and resources for families experiencing opioid use disorder (OUD). NAS affects newborn babies who were exposed to opioids in the womb and requires a complex and painful detoxification process in the days following birth.
"The struggles faced by babies born exposed to opioids are heartbreaking, as are the many challenges faced by their moms," said Renee Parsons, Co-Founder of The Bob & Renee Parsons Foundation. "Hushabye Nursery is providing the kindest of care. Their model is not only compassionate but proving to be more effective than current hospital standards."
Hushabye Nursery's innovative approach is treating substance-exposed infants in only 6-7 days, compared to an average 21 day stay in a traditional hospital.
Created by neonatal nurse practitioners, Hushabye Nursery is the only NAS nursery nationwide to integrate health care and social services based on keeping infants safe and families involved in their care and recovery. They were just named one of 10 organizations around the country for the First-Ever Behavioral Health Recovery Innovation Challenge by the Department of Health and Human Services though the Substance Abuse and Mental Health Services Administration (SAMHSA).
"The thought of a baby withdrawing from opioids is unimaginable, yet it is a reality that many families are facing," said Bob Parsons, Co-Founder of The Bob & Renee Parsons Foundation. "Hushabye Nursery is providing hope and compassionate care, not only to newborns but to their entire family."
The Covid-19 pandemic exacerbated opioid use disorder. It is estimated that in the past year one in eight children ages 17 or younger resided in a household with at least one parent who had a substance use disorder (SUD). Since starting in 2020, Hushabye Nursey has cared for over 350 babies and will be celebrating its 2nd Birthday on Nov. 16, 2022, at 7 a.m. Media is invited to attend the party at their offices, located at 3003 E. McDowell Road in Phoenix, and speak with executives from Hushabye Nursery.
About Hushabye Nursery
Since 2017, Hushabye Nursery has provided prenatal and postpartum outpatient education. With the emerging crisis in the number of substance-exposed newborns suffering Neonatal Abstinence Syndrome (NAS), Hushabye Nursery opened its 12-bed residential detoxification nursery in Phoenix for newborns painfully withdrawing from opioids they were exposed to in the womb and their families struggling with opioid use disorder. It is the first-of-its-kind NAS nursery in the US to provide state-of-the-art, evidence-based NAS care with wraparound family support services and provides a safe and inclusive space for mothers, family members and babies. It is exceeding existing models of care in improved health outcomes, cost efficiencies, and social determinants of health including less use of pharmacological treatments such as morphine, shorter lengths of stay, less expensive care costs, and increased family reunification. The Level-1 sub-acute facility accredited by the Commission on Accreditation of Rehabilitation Facilities (CARF) has treated more than 350 babies and their families since opening in November 2020. For more information, please visit: http://www.hushabyenursery.org.
About The Bob & Renee Parsons Foundation
The Bob & Renee Parsons Foundation offers support to nonprofit organizations successfully working to empower, educate, nurture, and nourish people during what is often the darkest time of their lives. Founded in 2012 by philanthropists and business leaders Bob and Renee Parsons to provide hope and life-changing assistance to the country's most vulnerable populations, The Bob & Renee Parsons Foundation offers critical funding at critical times to those in need. The Foundation's giving is driven by the core belief that all people – regardless of race, religion, roots, economic status, sexual orientation, or gender identity – deserve access to quality healthcare, education and a safe place to call home. Follow @WeDealInHope on social media or visit TBRPF.org to learn more about partner organizations and the important work being done in the community.