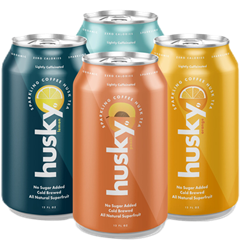 PALM BEACH, Fla. (PRWEB) January 07, 2021
Husky, a new entrant in the dynamic RTD market, announced today that their innovative sparkling tea made from the husk of dried coffee cherries will be available for purchase January 7, 2021 via http://www.drinkhusky.com and at select retailers. Featuring a trifecta of clean ingredients including proprietary tea concentrate brewed from organic coffee fruit, sparkling water, and vitamin-rich citrus, Husky debuts with three flavors: Grapefruit, Orange, and Lemon.
The dried skin of coffee fruit, also known as cascara in Spanish, historically has been a byproduct of traditional coffee bean harvesting discarded by farmers due to the absence of export opportunities. Husky was created to mitigate this food waste, upcycling the nutrient dense and flavorful husks to help create a new profit channel for financially stressed coffee farmers. In addition, two percent of all sales are donated to Husky's partner farms located in Costa Rica, Colombia, Honduras, and Brazil to strengthen the supply chain, invest in organic practices and improve infrastructure for higher quality coffee products.
Husky's rich antioxidant properties are anchored by the polyphenols found in coffee fruit, plant compounds that offer demonstrated health benefits including reduced inflammation, improved digestion, heart health, and protection from diabetes and certain cancers. Additionally, coffee fruit has been proven to boost proteins in the brain responsible for improving mood and slowing brain aging and memory loss. The extraction method Husky uses to harvest the coffee fruit preserves the polyphenols often lost or compromised during the coffee roasting process.
"We created Husky to be purpose-fueled by environmental and social impact, but also to celebrate this deliciously diverse ingredient, the coffee fruit husk," says Crawford Hawkins, Husky's founder and CEO. "Beyond its superfood nutritional profile, we are excited to introduce consumers to Husky's overall attributes including its low caffeine content and refreshing fruit-forward flavor. This is an approachable sparkling beverage that sits at the intersection of taste and sustainability, values aligned with the way people approach their food choices now."
Husky is available nationwide via direct sale at http://www.drinkhusky.com and select retailers beginning January 7, 2021.
Quick Facts
Name: Husky
Established: 2020
Headquarters: Palm Beach, Florida
Format: 12oz can
Flavors: Lemon, Grapefruit, and Orange; Peach and Lime available in Q3 2021
Nutrition Information: 5 calories; 1 g Carbohydrates; 0 g Protein
Wholesale Case count: 24
Online Direct Sale: 6-packs of each flavor
Web & Social: http://www.drinkhusky.com & @drinkhusky
Storage: Ambient (but best served chilled)
Shelf life: One year
MSRP: $2.49