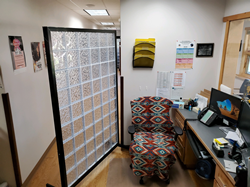 The rolling privacy panel is an attractive and effective way to provide some safety barriers --- and even privacy --- to employees in their respective work areas.
PENSACOLA, Fla. (PRWEB) August 20, 2020
To help reduce germ spread, Hy-Lite Acrylic Block Rolling Privacy Panels have been put into place at the Salish and Kootenai College Health Center in Pablo, Mont. Part of the Confederated Salish and Kootenia Tribes (CSKT) Tribal Health Department, the student health center is using the panels as a safely shield between the public and staff members.
According to Anna Parker with CSKT Tribal Health Department, the panels are intended as a way to help minimize the spread of the COVID-19 virus by separating employee work areas and entrance areas. One of the privacy panels is located near the front receptionist desk and the other is at the west entrance of the clinic. Patients with COVID-19 symptoms arrive at the clinic through this entrance and are shielded from the staff and the public by the sturdy acrylic block panel. Those patients are shown into an isolation exam room.
"These panels are appealing to our organization due to their versatility," says Parker, a Certified Medical Assistant with CSKT. "They're easy to move around. This is an attractive and effective way to provide some safety barriers --- and even privacy --- to employees in their respective work areas.
"We love their looks and how easy they are to wipe down and sanitize. The rolling privacy panels are so much better than the cloth curtains we were originally considering."
Easily Sanitized Panels
Created especially in response to the pandemic, the rolling privacy panels are made of one-and-one-half-inch thick acrylic blocks featuring an air gap in the center of each block. Each block is eight-inches by eight-inches and comes secured in a white or bronze vinyl frame. Block styles available include Wave, Glacier and Cross Rib.
The panel of acrylic blocks is then secured to a heavy-duty welded metal black base. The base features a set of four two-inch casters, each with a locking mechanism to ensure the panel remains in place until moving is desired.
The panels can be easily and repeatedly sanitized, making them ideal for a wide variety of businesses working to re-open under social distancing restrictions.
"We recommended the acrylic block panels to fit the needs of the CSKT Tribal Health Department," says Brice Normandeau with Valley Glass, Inc. "The panels came very well packaged and were easy to assemble. As we were putting them in place the staff at the facility seemed very pleased with how they will offer both privacy and protection to the work areas."
Online Purchasing
Almost 40 different sized Acrylic Block Rolling Privacy Panels can be purchased on the Hy-Lite online store. Sizes range from 42 to 58 inches in width, and from 71.5 to 79.5 inches in height. Pricing starts at $659 per panel and includes free shipping. A 10 percent discount applies when ordering 10 or more panels.
The rolling panels can be used for businesses, restaurants and other commercial endeavors working to re-open under new social distancing guidelines. The panels can separate office workers, diners, salon stations, computer labs, locker rooms and other activities. As an added bonus, the durable acrylic panels also help reduce noise levels.
The acrylic blocks, panel and frame are all made in the U.S.A., and the units are assembled and shipped out of the Hy-Lite headquarters in Pensacola, Fla. All Acrylic Block Rolling Privacy Panels meet the requirements for ANSI Z97.1 and 16 CFR 1201, Standards for Safety Glazing.
Hy-Lite, a U.S. Block Windows Company, is the leading manufacturer of acrylic block, glass block and decorative glass windows. The company's privacy product options include acrylic block shutters, accent panels, radius walls, partition walls and door inserts. Since 1988, the Pensacola, Florida-based company has been committed to providing residential and commercial construction professionals and homeowners with elegant, affordable privacy window designs. For more information, visit http://www.hy-lite.com.
###