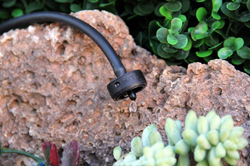 San Mateo, CA (PRWEB) January 20, 2014
The hybrid living wall is constructed using artificial boxwood hedge, real decorative rocks, and California succulent plants. This product was designed as a lower cost and lower maintenance alternative to full living walls.
Bob Smith, president of Geranium Street Floral explains that interest in green walls and living walls is exploding. "We are getting calls every day about green walls and living walls," Smith said. "I have looked into living walls, think they look fantastic, and think they will become quite popular in the coming years. Unfortunately, they are very expensive to build and maintain," Smith added.
"We wanted to create something that combined the best elements of artificial plants and living plants, something that would be more cost effective to create and maintain," Smith said. "Thus the hybrid living wall was born just in time for 2014," Smith added. The hybrid living wall is the newest addition to Geranium Street's growing product line.
2013 proved to be a great year for Geranium Street Floral as they worked with top designers and architects to build artificial hedge walls for hotels, commercial buildings, restaurants, and residential properties. Artificial boxwood hedge walls are becoming popular all over the country and Geranium Street has consulted people in New York, Miami, Chicago, and even Hawaii.
Geranium Street also did hands on installations of artificial hedge walls in Las Vegas, Palm Springs, Los Angeles, San Diego, San Francisco, and San Mateo. "We hope to be installing hybrid living walls all over California and beyond during 2014," Bob Smith said. Geranium Street is currently producing videos to demonstrate the aesthetic and practical benefits of their hybrid living walls.