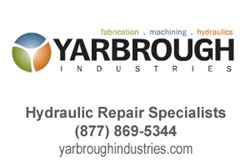 Springfield, MO (PRWEB) October 23, 2013
Hydraulic equipment is a major financial investment, so when something goes wrong, you need a hydraulic repair shop that is knowledgeable and does top quality work. Yarbrough Industries, the leading industrial machine service center in Southwest Missouri, has a full-service repair and remanufacturing department staffed with a team of experts who repair hydraulic cylinders, pumps, motors and more. Recently, those experts sat down to share their knowledge of hydraulic equipment repair in a series of interviews. That interview series is now available on the Yarbrough Industries' YouTube channel and on the company's website.
The interviews feature Tod Pearson discussing nine pieces of hydraulic machinery - each in its own segment. For each piece of equipment, Tod shares the common problems that leads to repair or replacement, how to know if a repair has been done properly, and how Yarbrough ensures quality in every hydraulic repair job. The interviewer also asks Tod to share 'things that most people don't know' about each piece of equipment giving him a chance to explain certain details that even seasoned equipment operators might not know about their hydraulic systems. Each segment is 3 to 5 minutes long. The interviews recorded and posted to date include:
1) Hydraulic Cylinder Repair
2) Hydraulic Jack Repair
3) Hydraulic Hose Repair
4) Hydraulic Pump Repair
5) Hydraulic Ram Repair
6) Hydraulic Hammer Repair
7) Hydraulic Motor Repair
8) Hydraulic Line Repair
9) Hydraulic Valve Repair
Yarbrough Industries encourages anyone seeking a reputable hydraulic repair and service center to watch the video series and contact them with questions and to get quotes for specific repairs.
About Yarbrough Industries
Yarbrough Industries has been providing on-time, cost-effective solutions for customers since 1946 across the areas of Fabrication, Machining and Hydraulics. Yarbrough offers advanced-technology engineering and fabrication processes and the widest selection of machinery capabilities in the area. Yarbrough Industries is a premier hydraulic parts and service provider who carries or has access to nearly any hydraulic part customers need. The full-service repair and remanufacturing department and mobile service truck can handle any repair job, from pumps, motors and hydrostatic drives to heavy equipment and welding work.
Contact
Tod Pearson
http://yarbroughindustries.com
tpearson(at)ymsinc(dot)net
Yarbrough Industries
514 N. Fremont Ave.
Springfield, MO 65802
(417) 869-5344