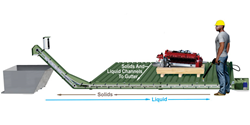 Our 32' wide X 40' long Hydropad wash rack includes a gutter drag conveyor that makes solids removal from wash rack automatic. Our operators love it!"
SALT LAKE CITY (PRWEB) July 29, 2020
Hydro Engineering has been granted a patent for its new "Gutter Drag Conveyor". This tool automatically separates the wash water stream into two outputs, one for dewatered solids and the other for liquid. The drag conveyor may be incorporated into any Hydropad above ground steel wash rack system.
Operation couldn't be easier; just set conveyor speed with the variable frequency drive controller and turn power on. Operation is fully automatic. Maintenance is reduced by the slow conveyor speed. Access to conveyor components for service is enhanced with lockable hinged access doors.
A Business considering a wash rack should answer these questions:

Location and climate
Utilities available (power, water, sewer)
Number of pieces per day
Estimated volume of solids removed from equipment or vehicles
Will this wash rack ever require relocation
Hydro Engineering Inc's in gutter drag conveyor is an attachment that can be added to existing Hydropad wash racks, or optioned with new Hydropad wash racks. This simple design automatically removes as much as 95% of solids from the wash water stream allowing clarified wash water to be discharged, virtually solids free, to filtration recycling equipment or back to wash operations.
Patented gutter drag conveyor reduces wash rack house cleaning. Solids reduction also benefits wastewater treatment and recycling equipment with ease of use and reducing wash rack treatment equipment maintenance.