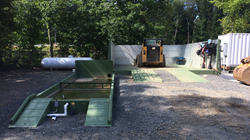 Our equipment ranges from 8,000 to 100,000 pounds and we wash everything on our Hydropads. Drive in tray has reduced our cost of ownership for our entire wash rack. It eliminates solids from our recycling equipment which has reduced our planned maintenance to almost zero.
SALT LAKE CITY (PRWEB) July 15, 2020
There are many factors that go into a wash rack design;

Location and climate
Utilities available (power, water, sewer)
Vehicles and/or equipment to be serviced
Demand (units per day, turnaround time, etc.)
Application (for appearance or corrosion control maintenance)
Solids/liquid separation is a primary consideration of any wash rack design. If minimum 95% of solids are removed at wash pad, then wastewater filtration, treatment and recycling equipment will require less maintenance.
OBJECTIVE: Remove solids at wash pad.
SOLUTION: Hydro Engineering Inc. Drive In Clean Out Tray
Hydro Engineering Inc has been designing drive in clean out systems for concrete wash pads for decades. Now we can incorporate a drive in clean out tray to our Patented Hydropad all steel above ground wash pad systems. Keep solids at wash pad for clean out convenience.
Hydropad model 2ZV237 Drive-in Tray is basically a heavy-duty solids settling system. Wash wastewater flows by gravity from a Hydropad above ground steel containment wash pad side gutter into Drive-in Tray. Weirs located in tray quiesce flow to promote solids settling. Clarified liquid enters an integral sump tank for pump discharge to subsequent filtration. As required, a skid-steer is used to remove accumulated solids in tray using tray entry/exit ramps. This system is ideal for operations with heavy soil loads.