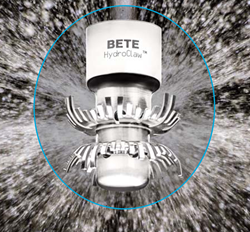 Maximum clog-resistance for ferocious tank cleaning!
Greenfield, MA (PRWEB) May 15, 2017
The new HydroClaw is a versatile Clean-In-Place (CIP) static tank-washing nozzle that combines unsurpassed clog-resistance and vigorous rinsing action for more efficient cleaning. Triple the free passage of spray balls. It is ideal for fermentation and bright beer tanks up to 10 ft. in diameter found in the winery and brewing industries.
Wineries and breweries typically have issues with spray balls clogging on stems, skins, seeds, grains, and hops; the HydroClaw tank washing nozzle is the breakthrough solution to this problem.
The unique, patent-pending, clog-resistant design quickly cleans tanks and eliminates maintenance downtime associated with clogged spray balls.
The HydroClaw is made from FDA compliant 316L stainless steel; the self-cleaning and self-draining design is ideal for use in food-grade and sanitary Clean-In-Place (CIP) applications.
Made in the U.S.A.
http://www.bete.com/products/hydroclaw.html
About BETE Fog Nozzle, Inc. Founded in 1950 on the invention of the spiral nozzle, BETE offers a full line of standard spray nozzles with a specialty in offering custom nozzles and products, including spray nozzle fabrications. Its world headquarters in Massachusetts is home to a spray laboratory, engineering group, investment casting foundry, machine shop, and welded fabrication group.
For more information, or assistance with selecting the right nozzle for your operation, please contact:
BETE Fog Nozzle, Inc.
50 Greenfield Street
Greenfield, MA 01301
USA
T (413) 772-0846
sales(at)bete(dot)com
http://www.bete.com