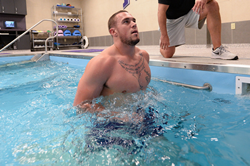 We welcome these three new teams to our professional football family.
MIDDLETOWN, Pa. (PRWEB) May 14, 2019
The Atlanta Falcons, the Baltimore Ravens and the Las Vegas Raiders make it 27 of 32 professional football teams in the U.S. who rely on HydroWorx aquatic therapy pools to care for their elite athletes.
"Our customers depend on our hydrotherapy solutions to accelerate healing," said Timothy McCarthy, Chief Executive Officer for HydroWorx. "Whether it's for routine conditioning or rehabilitation, sports medicine professionals rely on our advanced technologies and unique use of water to keep their players healthy in order to achieve their potential and get them back in the game."
"We welcome these three new teams to our professional football family," said Nicholas DiNubile, M.D., board member for HydroWorx and who served as Orthopedic Consultant and one of the Team Physicians for the Philadelphia 76ers for over 12 years. "For the growing lineup of all our professional and college sports customers, it's really the quality and speed of recovery and rehabilitation that makes HydroWorx the market leader for [sports] aquatic therapy solutions."
Success for hydrotherapy requires a detailed understanding of team needs and objectives. At the outset and over the long term HydroWorx engages with each team to identify the best solutions for thermal, polar and other water-based therapies – and the best fit for training facilities, stadium and other installations.
"In addition to other products, all these teams selected our 2000 Series for its advanced performance - variable water depth, moveable floor, an 8'x12' underwater treadmill, resistance jet technology and computer and camera systems," said McCarthy. "While the Raiders and Falcons were new stadiums and/or training facilities, the Ravens actually upgraded to HydroWorx technology solutions from a different hydrotherapy provider's product."
About HydroWorx
HydroWorx helps people achieve their potential by accelerating healing through our advanced and unique use of water. We design and manufacture the world's finest water therapy and conditioning equipment for the sports, healthcare, senior care and wellness markets. The company leads the industry in scientific research and data supporting the therapeutic and rehabilitative properties of water therapy. HydroWorx has sold products in 50 states and twelve countries. Among its extensive and elite client list are: Dr. James Andrews, renowned orthopedic surgeon; UFC, the U.S. Navy Seals, NASA, the Kennedy Krieger Institute, Manchester United, the 2019 NCAA men's basketball national champion University of Virginia, the Cleveland Clinic, the US Tennis Association, the 2018 NHL champion Washington Capitals, University of Notre Dame and Appalachian State. To learn more about HydroWorx, please visit hydroworx.com.
About Nicholas DiNubile, MD
Dr. Nicholas DiNubile is on the board of directors for HydroWorx and is a renowned orthopedic surgeon and sports medicine specialist in private practice in Havertown, PA with Premier Orthopedics & Sports Medicine. He is a best-selling author of the FrameWork series of books (Rodale), and is Chief Medical Advisor for the American Council on Exercise (ACE) and is Vice President of the American Academy of Anti-Aging Medicine (A4M). In his career, Dr. DiNubile has cared for numerous high-level athletes from Olympic and professional to recreational level. He has been chosen by his peers for over 20 years in "Best Doctors in America" and Philadelphia Magazine's "Top Doctors".