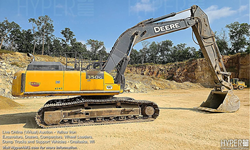 "This sale is a unique opportunity to purchase late model, well-maintained equipment from a leading construction company in Wisconsin."- Senior Vice President Gene Arenson
ROLLING MEADOWS, Ill. (PRWEB) December 02, 2022
HYPERAMS, LLC announced the December 15, 2022 live virtual online auction of surplus assets owned by Gerke Excavating, a leading provider of excavation, site grading, gravel crushing, and trucking services in western Wisconsin. The assets are located in Onalaska, Wisconsin and will be available for auction preview and inspection prior to the auction date on December 13 and 14 by appointment only. Event details can be viewed at https://www.hyperams.com/yellow-iron-auction-december-2022.
The auction will feature a fine selection of well-maintained construction equipment from manufacturers including Caterpillar, John Deere, Hitachi, and Case, as well as a selection of industry-standard service vehicles from Chevrolet, GMC, Mack, and Ford. Equipment category highlights include compactors, dozers, excavators, dump trucks, wheel loaders, and service and other construction vehicles. Asset photos and videos, payment requirements, and contact information can be found at https://www.hyperams.com/yellow-iron-auction-december-2022.
Senior Vice President of HYPERAMS Gene Arenson noted the quality and variety of the assets included in this offering. "This sale is a unique opportunity to purchase late model, well-maintained equipment from a leading construction company in Wisconsin."
HYPERAMS is conducting the live virtual online sale simultaneously through multiple online industrial auction platforms EquipmentFacts, Bidspotter and ProxiBid. The auction will be held on Thursday, December 15, 2022 starting at 10:00 AM CST. Preview and inspection of the assets will be available Tuesday, December 13 and Wednesday, December 14, 2022 by appointment only at 7010 Evergreen Way, Onalaska, Wisconsin.
For more details on this and other upcoming auctions, please visit http://www.HYPERAMS.com or contact Managing Director of Auction Services David Fiegel at dfiegel@hyperams.com. If you are interested in discussing our auction and liquidation solutions, please contact Senior Vice President Gene Arenson at garenson@hyperams.com.
About HYPERAMS, LLC
HYPERAMS is a full-service auction, appraisal, retail liquidation, and reverse logistics firm. We specialize in assisting both distressed and healthy companies manage surplus assets by providing a complete asset disposition strategy. The Asset Disposition division focuses on investing in and monetizing assets through orderly liquidations and live and webcast auctions. The Appraisal division provides valuations of machinery & equipment and inventory in all industry verticals. HYPERAMS has performed thousands of appraisals, auctions, and store closings on behalf of financial institutions, restructuring professionals, private equity firms, and business owners. Our reputation is our best asset.