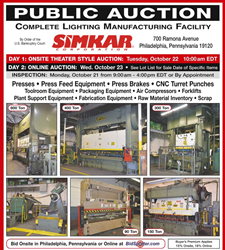 We are expecting spirited global bidding for our offerings at this large complete manufacturing facility auction," said Assistant Auction Services Director Jake Josko.
WOOD DALE, Ill. (PRWEB) October 09, 2019
HYPERAMS, LLC recently announced the equipment auctions of several businesses, including a a lighting manufacturer, a commercial cleaning company, a sign company, an electrical contractor, and a leather goods manufacturer, as well as a suspension spring manufacturer and a tent rental company.
HYPERAMS conducted a liquidation sale of over $4 million of Simkar Corporation's lighting inventory in September. A live auction sale of the entire manufacturing plant and all remaining component inventory is scheduled for October 22 and 23; inspection will be held the day prior or by appointment. "We are expecting spirited global bidding for our offerings at this large complete manufacturing facility auction," said Assistant Auction Services Director Jake Josko. "The lots include large punch press lines, press brakes, CNC turret and punch presses, bending rolls, packaging and assembly equipment, tool room and maintenance equipment, forklifts and material handling equipment, and much more!" The liquidation and auction are being conducted in partnership with PPL Group, LLC.
HYPERAMS is also planning to conduct three online auctions next week. The first auction, which ends on October 14, includes control and electrical components from industrial plants. In addition, HYPERAMS is conducting the auction of Hygeia Residential & Commercial Services, Inc. by order of secured lender. Hygeia is a complete mobile carpet cleaning company; assets include mobile Butler self-contained carpet cleaning systems, Hydro Tek portable pressure washing and steam cleaning system and a large quantity of commercial grade dehumidifiers, air movers, carpet cleaners, and vacuums. "These lots are open for bidding" said Josko. The auction will close October 15.
HYPERAMS, in partnership with Cincinnati Industrial Auctioneers, is conducting the auction of Grate Signs, Inc. in Joliet, Illinois. "We're pleased to announce the complete dispersal of this sign making company," said Josko. "We are offering late model trucks, sign making machinery, and a large selection of power and hand tools." The auction will begin closing October 17; inspection is available by appointment.
Later in the month, HYPERAMS will conduct the online auction of an electrical contractor (name withheld) in Rockford, Illinois. Josko noted that "this sale will be a great opportunity to pick up unused and like new Greenlee pipe bending equipment, cable pullers, punches and wire reel carts. In addition to the large quantity of Greenlee equipment, we will be offering an International truck, a late model Gooseneck trailer, assorted sized forklift trucks and a very clean Four Winns Freedom 190 Inboard Motorboat." This auction will begin closing October 21 with inspection held the same day.
For more details on these and other upcoming auctions, please visit http://www.HYPERAMS.com or contact Director of Auction Services Burdette Wilber at bwilber@hyperams.com or Assistant Director of Auction Services Jake Josko at jjosko@hyperams.com. If you are interested in discussing our auction and liquidation solutions, please contact Senior Vice President Gene Arenson at garenson@hyperams.com.
About HYPERAMS, LLC
HYPERAMS is a full-service auction, appraisal, retail liquidation, and reverse logistics firm. We specialize in assisting both distressed and healthy companies manage surplus assets by providing a complete asset disposition strategy. The Asset Disposition division focuses on investing in and monetizing assets through orderly liquidations and live and webcast auctions. The Appraisal division provides valuations of machinery & equipment and inventory in all industry verticals. HYPERAMS has performed thousands of appraisals, auctions, and store closings on behalf of financial institutions, restructuring professionals, private equity firms, and business owners. Our reputation is our best asset.