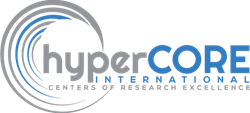 Our sites employ the most advanced methods of telehealth including virtual visits, with remote and mobile units available.
AUSTIN, Texas (PRWEB) April 29, 2020
In response to the global need for COVID-19 vaccines and treatments, hyperCORE International announces its ability to reach more than one million patients across North and South America to participate in clinical trials.
hyperCORE International, the US-based integrated site organization, is already conducting multiple groundbreaking COVID-19 vaccine and treatment trials across its 90 partner sites. The organization's partners have extensive experience in respiratory trials, with more than 1,100 respiratory trials completed including severe pneumonia.
"Collectively, we've enrolled more than 100,000 patients in vaccine trials and have experience in more than 40 infectious disease indications," said Mark Lacy of Benchmark Research and CEO of hyperCORE International. "Additionally, the organization is already administering more than 10,000 COVID-19 tests per week and it has access to more than 5,000 outpatient COVID patients per month."
hyperCORE International has incorporated features that help expedite study start up and execution, including a single contract, centralized budget and IRBs.
"Our sites employ the most advanced methods of telehealth including virtual visits, with remote and mobile units available and all sites are Virtual Trial certified," said Lacy. "This technology implementation means we are operational during even the most challenging times."
About hyperCORE International:  
Formed in 2019, hyperCORE International is a super network of highly experienced and awarded clinical research site/network companies. It is an industry leader, providing Phase I-IV clinical trial services with more than 90 active research sites across the globe. It is the second largest clinical research site organization in the world. Its member companies have over 100 years of combined experience and completed more than 6,000 studies helping to evaluate thousands of new drugs and treatments in more than 60,000 patients. Each member operates as an independent company but integrates common functions to streamline business and clinical operations through harmonization and sharing of best practices.  
hyperCORE International is committed to the highest standard of research excellence with subject safety, data integrity, rapid study startup, competitive enrollment, and outstanding subject retention as top priorities. Its members have won numerous awards for performance, quality, and innovation. 
If you are interested in becoming a member of hyperCORE's expanding and exceptional network please contact Michael Casey, Executive Director of hyperCORE via email at to begin the process mcasey@hypercoreinternational.com